jamesnixon.com

Media

Media Performer
experience on radio, television and in print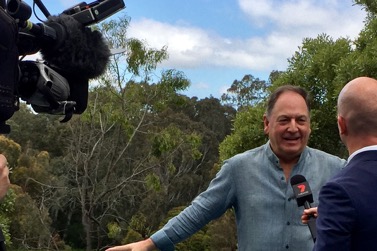 _____________________________






WhiteRat
James Nixon contributed to
Ross & John's Rumour File

2018Jan24RumourFile -WhiteRAT







Melbourne's New Airport
Radio 3AW's Darren James asked about the
proposed new airport in Melbourne's southeast
Click the link: 2017Jun5_3AW_Airport
_____________________________





The World's Best Pilot, F.O.Sirri,
and their Paid Passenger
Ross & John's Rumour File, a story about a
787 starting problem at Sydney last week
Click the link Rumour THE OTHER RIGHT
_____________________________





Funeral Of A Hero
Tony Moclair asked James to report on
the funeral of Peter Issacson AM, DFC, AFC, DFM
3AW_PeterIssacson2017May4

_____________________________





What Happened To MH370?
Tony Moclair asked about the new book
"The Crash Of MH370"
Click the link: 2017Mar13_3AW_MH370
_____________________________






What Can You Learn In Two Days?
Ross & John asked what you can learn in two
days … James offered to teach Burnso to fly an A380
Click the link: 3AW_FlyAnA380_Feb_06_2017-004
_____________________________





Phones Catching Fire On Aeroplanes
Hear 3AW's Ross & John asking
if it's true that premium seats
crush phones, and what happens next …
Click the link:3AW Breakfast 9 Jan17
3AW's Page here
_____________________________





Qantas To Make Perth Its Hub
Hear 6PR's Adam Shand asking about the
direct Qantas 787 flights to London.
Click the link: 6PR 22_NOV_16
_____________________________





British Tourist Gang Raped In Dubai
Hear 6PR's Adam Shand asking about the
dangers of local laws when travelling.
Click the link: 6PR-Nov_16
_____________________________






Do Planes Really Glide?
Hear 3AW's Ross & John asking
if it's true that planes have the
gliding properties of a brick …

Click the link: 3AW_2016 Oct 31
_____________________________





Pilot's Beards & Uniforms
Hear 6PR's Adam Shand asking
about the new Qantas uniform rules.
Click the link: 6PR_Uniforms_27_10_16 .
___________________________





Aviation Communication
Hear 6PR's Adam Shand asking
about the dangers of pilots
mis-understanding aviation English.
Click the link: 6PR_ATC_14OCT16 .
_____________________________





The New Killer In The Skies
Hear 6PR's Adam Shand asking
about lithium batteries and airliners.
Click the link: James Nixon 6PR Lithuium

_____________________________





One Minute You Were …
On the way to the airport
for his last trip he spoke
about his career to his friend,
Radio 3AW's Darren James
Click the link: 3AW_DJ Sept2016
_____________________________





MH370 What Happened?
Hear 6PR's Adam Shand asking
about MH370 - two years on.
Click the link: 6PR_MH370_Mar8th2016
_____________________________



The folllowing are stories that appeared on an interesting experiment, an internet radio-on-demand station, iRadioMAX, which was run by Max Walker and Christian Peterson in 2007/8 but has sadly folded. Read the scripts and listen to the shows on the links below:


Story 1. DUBAI: Centre Of The World
Squeezing up between the sand and the sea...

Story 2. THE U.K. End Of The Empire
BBC Radio 4 killed it's Opening Theme and the Empire

Story 3. Looking Out The Window
Flying, global warming, bushfires and the human spirit

Story 4. BA 777 Crash Initial Reaction
24 hours after a double-engine failure, why are 777s still flying?




2010 Melbourne Cup Emirates A380 Flypast




Radio 3AW Melbourne - Breakfast Show, interview (06:40 am 02nd November 2010) (audience 17% Melbourne) Listen to the interview HERE

Channel Seven television interviews and double flypast (02nd November 2010) - 12 million viewers (plus 110,000 at the venue). Package repeated during Oaks Day and Emirates Stakes day programming.



Ansett Airlines Corporate Failure

Channels Two, Seven, Nine, Ten Australia and CNN Worldwide, Saturday 14th September 2002. Channel Ten News 27th Dec 2001

ABC Afternoon Show: (Ben Knight & Virginia Triolli), 3AW Breakfast show: Darren James & Tony Leonard (Dec 2002, Jan, Feb & March 2002)

Australian Financial Review, re Solomon Lew and Myers Board, Wednesday 18th September 2002. Daily Telegraph, The Australian, News articles re Ansett - 14th September 2002. Herald Sun Feature - 28 Feb 2002. New Idea Magazine Feature - 16 March 2002



Olympic Flame Flight

The Flying of the Olympic Flame into Australia from Auckland - June 2000 ABC Radio & 3AW



Kangaroo Valley Rescue

The assisting of a young Pilot, Peter Schulte, who with two passengers was caught-out by unforecast bad weather whilst flying overhead Kangaroo Valley, NSW. 60 Radio, TV interviews, newspaper and magazine articles.



American Airlines Crash

on the Greg Evans Show Radio 3AK (13th.Nov2001)



Character Acting

Various Appearances as "Clarrie Wilkinson" on radio 3AW, David Mann, Nightline and Darren James shows; and on the Jon Faine program, radio ABC, for two April Fools hoaxes: Online Voting and uranium-powred E Tags.



Steve Fosset Balloon Flight

on Jon Faine ABC 774 Radio






Graduate

Acting for Film and Television
Swinburne University

Summer Film School
Melbourne University

Announcer's Academy
Bob Taylor

Master Of Ceremonies

Shopping Secrets
Two book launches

Rally Of Melbourne
Start & Finish ceremonies

Southern Cross Rally & Begonia Rally
Spectator point commentary




Publicity & Media Centre Management

Akademos Rally
Media Centre Management

Rich River Rally
Publicity & Media