jamesnixon.com

Editorials - News - Rumours
The most recent is at the top. Scroll down to read the archive. Or search using CTRL+F (COMMAND + F) and enteri a keyword to search the page.

_________________________________________________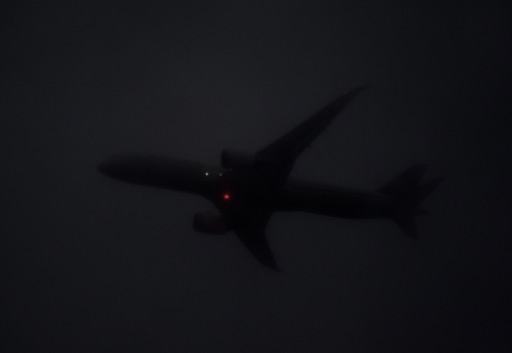 Rolls Royce Trent 1000 Engine Issue
Grounds Some Boeing 787 Dreamliners


There are 400-500 Rolls Royce Trent 1000 jet aircraft engines in the world. It seems that some bolted onto the wings of Boeing 787 aircraft are having problems, wearing-out earlier than anticipated. It's rumoured that the problem is a design issue, (tip degradation), and cycling the engines through Rolls-Royce's repair facility will take a lot of time.

Air New Zealand had two incidents in the last few days. NZ99 was bound for Tokyo, had an engine shut down and immediately returned to Auckland. The next evening the crew of NZ30 shut an engine down on departure for Buenos Aires. Airline Secrets Exposed (a Facebook Page which closely-follows the industry here), reported that the Boeing 787-900 suffered severe vibrations before returning to Auckland without dumping fuel. Both aircraft are less than four years old.

Airline Secrets Exposed says:

"Last year corrosion and cracking problems were identified in Rolls-Royce Trent 1000 engines on Japanese airline ANA Dreamliners and the engine maker undertook to replace them around the world. Small turbine blades at the back of the engines are being replaced. Rolls-Royce previously advised and that it does not have enough spare engines available while that work is undertaken."

The same day that Air New Zealand's operations staff were discovering that their flights running-up to Christmas may be in jeopardy; Virgin Atlantic's VS207, enroute from Hong Kong to Heathrow, turned-around over Mongolia and returned to Hong Kong. 9 hours 15 minutes and back to the origin airport. The flight was cancelled and the aircraft remains on the ground.

Virgin's 787 fleet is still to fully undergo the rectifications and the airline is leasing Airbus A330s to fly on some routes whilst their planes are grounded. They are also getting their Airbus A340s out of mothballs to cover the flying.

Reuters reported (here) that British Airways said it was carrying out precautionary inspections on its Trent 1000 engines. In a statement BA said:

"To facilitate the engine inspections we have had to make some minor schedule adjustments and are rebooking customer onto alternative services."

There are at least three Trent 1000-powered 787s grounded at Heathrow.

These days, many airlines lease the engines on a 'power-by-the-hour' basis, leaving the supply and maintenance to Rolls-Royce. So, for many airlines, it is up to Rolls to fix the problem.

Virgin Atlantic's partner Delta is stepping-in to provide assistance, covering many flights, but the issue is expected to take months to resolve.

The Boeing 787 came 'out of the box' with three hours ETOPS approval when it was launched, and did not have to spend years proving reliability. In May 2014 it was extended to 330 minutes. This means the two-engined aircraft could fly to a point, have a major failure such as an engine failure or cargo fire, and safely fly five and a half hours to a suitable airport. Whilst this appeases accountants and risk managers, pilots and passengers often hold differing views.

Flying over the Indian, Atlantic, Southern or Pacific Oceans with one engine shutdown, on a two-engined airliner, may not be comforting if the other engine is almost the same age as the failed-engine.

8th Dec 2017

_________________________________________________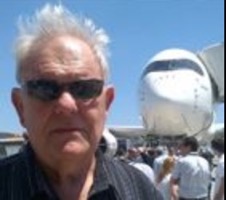 And Now We Are Really Stuffed
Ben Sandilands has left us


In the last few years I've been having regular email chats with Ben Sandilands, from Crikey.com's PLANE TALKING blog HERE.

Stricken with cancer, he refused to allow it be publicised "... my plan is to fade away when the time comes, and not make a big deal of it...".

Don't worry, on your behalf --and on behalf of everyone in the industry-- I let him know often that he was the most respected journo in the field, and that all of us were so grateful to have a journo who actually took the time to understand our business and what makes pilots tick.

He lived in a small village in the southern highlands of NSW, took the train to Sydney for his cancer treatments, and received his snail mail care of his first name at the general store.

His wisdom and intellect, and inability to suffer dickheads; but more importantly, dig out the key point of a story; meant that I have a file of Ben Sandilands stories which I will treasure forever.

Now he has left us. And we are really stuffed.

Thanks to his family, for sharing him with us. We were so lucky that he chose us to write about.

My highest honour in aviation was received with the sign-off in his last email to me:


"Take care, we both need to prove persistent
and irritating for some time yet."


Let that be his challenge to everyone who picks up a pen.

Oct 30th 2017


_________________________________________________





Australian Aviation Security
Peter Lloyd from ABC Radio asked James for a pilot's view
about airborne bombs and Australia's airport security.
Click the link: 2017-08-04-NIXON_TheWorldToday
_________________________________________________





Melbourne's New Airport
Radio 3AW's Darren James asked about the
proposed new airport in Melbourne's southeast
Click the link: 2017Jun5_3AW_Airport
_________________________________________________





The World's Best Pilot, F.O.Sirri,
and their Paid Passenger
Ross & John's Rumour File, a story about a
787 starting problem at Sydney last week
Click the link Rumour THE OTHER RIGHT
_________________________________________________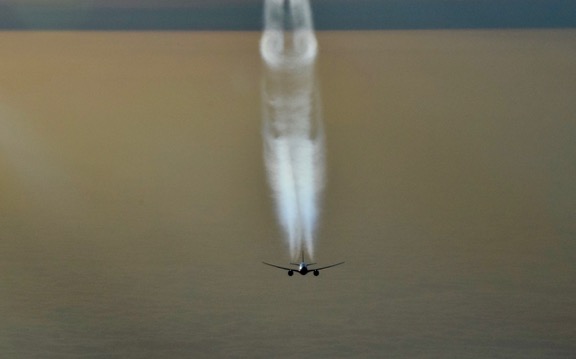 Contaminated Air In Aircraft

My book, The Crash of MH 370, advises that there are 1,300 smoke or fumes in USA and UK every day, and makes 13 urgent recommendations Dr Susan Michaelis of the University of Stirling's occupational and environmental health research group say, of contaminated air inside aircraft: "It's unsafe. This is not all about health. This is also about flight safety. If air crew are incapacitated in flight, everyone is at risk."

The Independent's article is HERE
Radio 3AW's Ross Stevenson & John Burns
interviewed Dr Michaelis:
Contaminated Air

_________________________________________________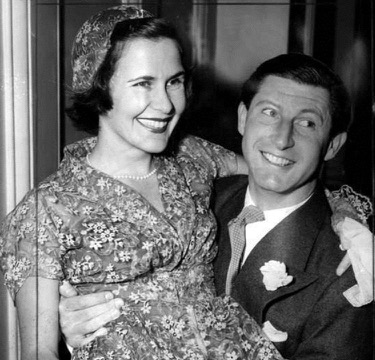 Wedding picture from 1950 (Wikipedia)

Anne & Peter Issacson



Peter Issacson shall be remembered for his time as a Pathfinder Captain in the second world war, flying in at treetop height to liberate prisoners of war, and marking targets. For flying his Lancaster under the Sydney Harbour Bridge to raise war bonds, (and for walking over it when he was 90); for being the consummate journalist, employer and publisher; famed editorial writer and family friend.

When he found out I had 1,100 hours flying the Saab 340 he was more excited than me: "I only had 1,000 hours at the end of the war!" He followed my career with interest and always asked to be remembered to Captain Jim Stagman, who had shown him through the simulators at Emirates.

Once met, he never forgot you; and many Australia's top journalists owe their start in the business to Peter.

His work with Dacre Smyth nurtured and protected Melbourne's Shrine of Remembrance for decades. Their dream, to make it relevant to new generations, has come true –– attendances at the Anzac Day Dawn Services have grown every year. Each year the two of them stood at attention in the official party wearing their original uniforms.

But all of that pales when compared to his love of wife Anne (who passed away last year). Between their engagement and wedding she contracted polio … but it didn't slow them down for a second. Their sparkly-eyed relationship, and his tenderness towards her, is how I will always remember him. When they entered a room, the party began. How lucky were we, to have known them both.

Vale Peter Isaacson AM, DFC, AFC, DFM … and bloody good bloke.






Funeral Of A Hero
Tony Moclair asked James to report on
the funeral of Peter Issacson AM, DFC, AFC, DFM
3AW_PeterIssacson2017May4

10th April 2017


_________________________________________________





Chelsea Brown
A Night To Remember


Park Hyatt, Canberra. We used to bring the last Ansett Boeing 727 in, have a day off, then fly out early the next day. One night, during the mid nineties, became the most exciting of my life.

The bar closed and we decided to move to the lounge and order room service. I started playing the magnificent grand piano. More drinks arrived. After midnight a group of people arrived and joined us. They were actors and crew from a stage show; their star was the stunning Chelsea Brown. She asked if she could sing with me.

The next hour or so became the most memorable performance of my life as we ripped through all the standards: Georgia, What are you doing for the rest of my life, Misty, Moon River, Can't get Started, Can't help lovin' dat man, Someone to watch over me, everything I knew, she knew. Amazingly, her key was my key, (I couldn't have transposed to save my life), as she floated up and down the scale to match me. Effortlessly, with each imperceptible nod she coached me into becoming a world class accompanist. During the solos my usual fat-finger, stumbling became classy. I never crushed a note.

The alcohol flowed, the aircrew and the stage crew bonded while the poor bastards in the real world slept. Our audience was the hotel staff, the room service guys were flat out.

I left my favourite song til last. My Funny Valentine. It may not have been her favourite, but she sung it like it was. I have never played so well, before or since. All my practice, all those years, was for that night. When we finished we knew what Hillary and Tenzing felt like.

I was terrified. How to get back down?

She came and whispered to me: "I have to stop now … I don't know any more!"

Neither did I, but I didn't let her know that.

I finished a few minutes later with the song that I always finish with: Terry Clark's version of Waltzing Matilda … well, my version of Terry's version (that is: without the clever bits).

A few minutes later the outgoing crew started wandering through the lobby bar on their way to checkout — you may have been one of them— astounded that last night's 727 crew still hadn't been to bed, and noting the detritus of used glasses and cold french fries littering the area.

I have always felt guilty for letting Chelsea think that I had more to give. When she declared that she had run out of songs, I should have said: "Me too."

Instead, she went to her grave yesterday thinking that I was cleverer than I am. Which was a lie. She made me clever that night, she found a junior 727 first officer tinkering on a piano and took him to the top of the world.

A world that is poorer today, for her passing.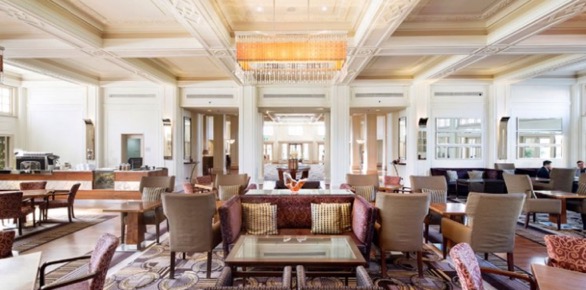 6th April 2017

_________________________________________________

Essendon King Air Crash
ATSB Release The Preliminary Report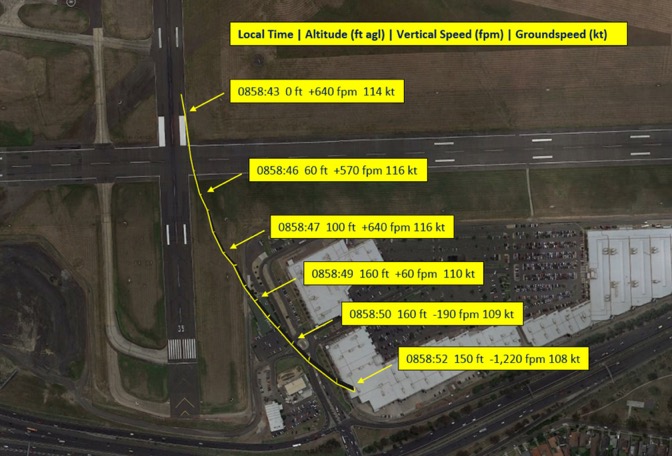 No engine failure? Seven Mayday calls? (Three is normal) No gear retraction. The voice recorder kept the previous flight but didn't work for this one. Only slight tailwind component. The ADS-B plot showed climb rate of 570 feet per minute off the deck and speed of 116 kts. VMCA is 86 kts, and blue line is 121 kts. Track shows left drift started immediately ... left engine may have working but not been delivering full power.

Talk about confusing. Not even heart attack makes sense. Overloading or incorrect loading? Was he shot? Just about the only thing we can't disregard is UFO activity. Will have to wait for comprehensive analysis of the props to see how much power was being delivered.

As always in this business, this is gonna take some time. Read the report HERE

29 Mar 2017
_________________________________________________





The US Ban Is Insane
Consigning Electronic Items To The Cargo Hold Is Crazy


The destruction of the PANAM 747 in the Lockerbie bombing proved that a disguised device, placed in a cargo hold, can cause disaster.

The work done by the brilliant Kiwi investigator working for the GCAA on the UPS6 747 crash identified the danger of lithium batteries.

Both ICAO and FAA recommend that lithium batteries should NOT be placed in checked baggage.

The existing system, hand screening electronic devices ("Turn it on and show me that it works" and intelligent Xray machines) solves the problem.

Lithium batteries (electronic items such as laptops, phones, eReaders, cameras) are best carried in the cabin where a thermal runaway can be detected by fire fighters (cabin crew) who are trained to deal with them using the new FireSock technology.

Is the "Security" smokescreen the new tool to damage the three Middle Eastern Carriers so despised by the US carriers? It emerged soon after the new President met with US airline bosses.

The new policy only increases the chances of a Li battery fire in checked baggage — which may well be the cause of the MH370 crash.

Don't play their game.

If the USA won't accept careful hand screening and Xray-ing of electronic items, then maybe they don't need the tourism and business dollars of their prospective guests.

I, for one, will not board a flight to the USA (and now London) which allows passengers to cram, squash and squeeze Li battery devices (each one with an exquisite electrical timer) into their bags bound for cargo holds. Especially since each bag next to it can be guaranteed to contain Li batteries in the camera, laptop, tablet and eReader within.

I'll take a holiday flight somewhere safer, and do business by teleconferencing if needed.

22 Mar 2017
_________________________________________________

PERTH ENGINEER HIT BY LIGHTNING
Australia: The Cleanest Third World Country On The Planet


In Singapore, and other places, the Ground Engineers use wireless headsets to talk to Pilots. There is a just a moment when the sender device is plugged into the com box on the nose gear where contact is made. It allows the Engineer to sit in air conditioned comfort of the tug cabin, walk around to observe hatch closures, or stand out of the heavy rain. In Perth, Australia they use last century's technology … attaching the Engineer by a wire.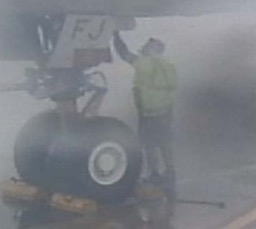 Perth Airport Photo


All is good, until lightning hits the aircraft which happened to this poor b@stard in November 2014. Read about it here http://tinyurl.com/ATSB-lightning

Whilst the operator is "investigating" wireless headsets, it's about time Australia joined the new century. Make them mandatory.


_________________________________________________

THE REASON TRUMP WON ...
I won money on Sportsbet, got on him at $5.00


You have to see Trump as the Americans see him. How come the L.A.Times Poll was the only one to read it right from the start?

How could hard-working Americans who have been marginalised over the last 8 years find comfort in Donald Trump?

He has been in their lounge rooms every week for straight 11 years in The Apprentice. They know him, and love his hair like we love Bert Newton's wigs. His humour is reminiscent of that other actor President Reagan (here).

Have a look at Series One, Episode One HERE and see that Trump:


is funny,

is rich,

has a stunning apartment,

has taste

(

not MY taste but theirs…

),

is a leader ,

surrounds himself with good assistants - one is a woman,

clearly recognises women can be better than men,

can delegate,

is decisive and

is presidential,

He is a real estate salesman, will be good at negotiation and selling.


Whilst Americans struggle,
12 Trillion
dollars has been printed and given to the rich. Friday's
DOW
stock market close is
the highest in history
. Has Middle America seen any of it?

Like everyone in real estate, he knows cycles, mentioned in the first debate that we are in a bubble,
'We are in a big, fat, ugly bubble…'
and was just starting to talk economics but the moderator changed the subject
*
.

Trump seems to model himself on
F.D.R.
who went to Washington to end the Depression. He knows what is coming, and may even be the right man for the job.

Whereas Clinton's
"
Deplorables comment
"
and final catch phrase
'
I wanna be the President
'
was all about her, the super salesman put his customers first:


'
… you wanna 'nother eight years of this?
'


Clearly they didn't.




AND:
The reason the losers are setting fire to the cities?

They are angry at themselves
and each other
that they didn't get out to vote like they did the last two times. They could have won.
13th November 2016

* First Debate transcript HERE

_________________________________________________
THE AIRBUS A380 IS (NOT) A DUD ...
That sneaky press release is doing the rounds again


The USA PR machine is spinning again (they put this story out every six months); and gullible journos who only "rip and read" press releases are falling-in as Farnborough Air Show continues.

"THE AIRBUS A380 IS A DUD".

Oh really?

Emirates have 81 and there are another 61 to come. Airbus have sold 319 and delivered 193. That'll keep Europeans busy for a few more months at least.

The A380 comes into its own when (a) experienced Pilots are hard to find (1968), and (b) oil is $130 a barrel (2008).

With 10,000 U.S. Pilots retiring due to age and new starts dwindling it will survive. My record is 618 passengers. Not bad productivity for two pilots. Oil WILL get back to the June 2008 figure of US$136.31 ...

With a cabin altitude of 6,800 feet at FL390, passengers love it. Just ask 'em.

As seen with the Saab 340, aircraft hulls are like computer printers: loss leaders so you can sell 'em spare parts. (They are starting the Saab 340 production line again just to sell a few more hulls to parts-addicted airlines).

So don't worry about the A380, "The lady doth protest too much, methinks"(Hamlet). The elephant in the room is the Boeing 747-800. How many of the pax version have been sold?

Only 51.





I CAN SEE INTO THE FUTURE ...
'It Was An Inferno. Before I Realised What Was Happening,
The Whole Wall Went Up'

7th August 2015:

As the world moves to collecting energy at its point of use, it is worth investigating what could happen when things go wrong. Home-sized lithium batteries make solar viable, collecting energy during the day and storing it for use at night in new batteries made by such companies as Samsung, Tesla and Bosch.

Now I have no doubt that the safety systems of the batteries and the solar arrays are infalible, (just like the Titanic). But what happens an iceburg comes along in the form of a house fire caused by some other reason, such as a wildfire (US) or bushfire (Australia). Or, say, a car running into the side of the house. Or an aircraft.

See what happens when you try to put out a lithium battery fire with a fire extinguisher HERE and watch this insightful NBC News report on Lithium Batteries and airliners HERE. They just don't go out.

I suggest that these batteries are installed in a cradle which simultaneously disconnects the cables and ejects the battery from the side of the house, allowing it to burn-out without setting the house on fire. The ejection handle, (there could be multiple handles), would be far enough away from the battery as to be operated safely.

Next is to design a system impenetrable to every fourteen year old boy on the way home from school, so they cannot 'fire-off' every house battery in the street for a joke.




_________________________________________________





Malaysia Airlines MH 370



On the 8th March 2014 I posted:


"How do you lose a 777 at 35,000 feet 2 hrs after takeoff from KUL?"


My answer is HERE along with updated information from 7th August 2015.








THE WHITE RAT ...
Qantas Troubles Reach A Peak

On the 26th February 2014 I wrote:

QF what will be announced, 12 years to the day that Fox & Lew killed any chance of Ansett MkII?

I predict: International : Kangaroo and Wallaby routes only. Domestic: Shark Patrol* and PER to the east coast destinations (BNE.SYD.MEL), Jetstar to get the rest.

Kill Jet* Vietnam (I predict a $65M loss), Japan, HKK maybe NZ. Jet* Sing? A lot of work for $2M ... outsource all heavy maintenance and back office to PI and a little to India.

Sale and leaseback of the fleet ($900M for which they'll get $600M), sale and leaseback of terminals and jet base. Pain all 'round. Feel sad for thousands of loyal QF staff who are gonna get kicked in the guts.

Joyce? Not all his fault (Jet* O/S expansion excepted) ... blame Dixon for handing him a poisoned chalice: absolutely no plan B - the 747 replacements were the A380s and the 767 replacements the NightMare (Dreamliner) ... the day that both these aircraft were late (as all new a/c are); the fate was sealed. There was no plan B ... Joyce was silly to accept it. Sad.

* The Shark Patrol: BNE-SYD-MEL-ADL (with ADL dropping-off the day GMH closes its doors)

Today, 6th March 2014:

That was my prediction BEFORE the announcement. It stands. This is what will eventually be left. I have read the briefing to the stock exchange and I think he has a chance of stemming the flow. Last year they were bleeding $1.5M a day. Now it's down to $M1.28 ... Some old 767s and 747s have gone. The last old 737 did its last flight two weeks ago. PER-SIN is finished. The CNS base will close and the crews are being redeployed.

The problem is that the Labor Gvt privatised 100% of this company 19 years ago and people think that is still a Gvt carrier. Allegedly, after being funded by the QLD Gvt in its startup phase, Virgin Australia is more gvt-owned than Qantas. The government has to allow QF to operate on a level playing field with respect to ownership. Today that amendment has passed the House Of Reps but has yet to pass the Senate. I doubt ANY international carriers would be silly enough to buy a share of QF - but KLM went to bed with Air France (questionable) and BA went to bed with Iberian, so there are precedents.


Qantas is a business, not a charity. The staff and customers must get this. I used to fly MEL-SYD for $237 return in 1980. You can get this same fare, or cheaper, in today - 34 years later it SHOULD cost $931 according the RBA website with inflation averaging 4.2%.


Joyce should contact every Mayor of every charity route, (CNS.TVS.MKY.ROK etc etc - he has about 60 calls to make); and say:

" If you want the White Rat to continue your daily service, it's gonna cost $XX,000 per week. We WILL do it for you, better and cheaper than anyone ... AND if you think you can start your own airline cheaper, call the Mayors of Mackay and RockVegas ( who went and started their own Fokker 100 airline after Ansett) and ask them".

EVERYTHING ELSE needs to move to Jetstar - which is gonna grow and grow.

In the longer term I'd turn Jet* from a Low Cost / Crap Service offering into a Low Cost / Nice Service offering based-on Babara Cassani's GO (BAs low cost carrier killed by Rod Eddington).

The longer he keeps loss-making routes happening, the faster the parent bleeds. He MUST get the staff levels per aeroplane from the 385 (pre Ansett death) to about 120. The sooner he does it, the sooner he crawls out of the grave. If he doesn't, it'll die. That may take 5,000 jobs - it may take 6,000. The day the flight crews started using Ipads instead of paper for their inflight manuals, the people updating them daily became obselete - the cost of modernisation.

But the Pollies and Unions hate Joyce. Grounding the airline, as he did, sealed his fate. A senior Australian businessman / ex Mayor told me on Monday (over a nice crumbed Whiting), that the only way to complete the recovery is with a new broom of management - for whom "THE OLD WAYS" is history, not standard business practice.

All the pollies and unions know : this is a fight between two men, the CEOs of Virgin and QF. They are set against each other and with Virgin losing $0.45M a day ... the stakes are high, and they are using hard working loyal staff members as chips.


* Those readers new to this page, who are interested in previous QF posts - inc QF32, scroll down to : QF32 PRELIMINARY REPORT




ON DELETING A FACEBOOK FRIEND ...
One Of My Friends Sent One Of My Friends A Personal Chat Attack

Yes, I deleted you from my Facebook account after reading the attack you made on a very close friend of mine.

You are not only just plain wrong, you are completely wrong.

This lady I have known for nearly twenty years. She lives in Dubai and gives a full time job to an Indian woman. Not employing someone for a couple of hours a week, as I do, she got this lady a Visa, feeds her, clothes her, treats her as one of her own family, flies her home for holidays and shares a roof with her. Plus she pays her five times the money she could make in her own country. Five times.

She is most definitely NOT a racist. She plays sport with, and coaches, young women from a diverse number of countries. She ferries kids around Dubai in her car of all races ... she, as I, and most Australians I know - care little for the colour of a person's skin, their religion or their background. We judge people by their acts and deeds ... most notably by asking ourselves "Is this person a bullshit artist?"

To be known as a 'Bullshit Artist' is the worst thing ... in Australia.

To be 'Fair Dinkum' is to be revered. It means: trust worthy, a man of your word, someone who does what they'll say they'll do. Someone who sticks up for those less fortunate, and who sticks up for a mate. As I have done by responding to you.

As two of the one million Australians who live overseas, (in our case we can't get work in our chosen profession in Australia); we are Australian expats. Economic refugees who have to go overseas to find work. Both of us lost our jobs four days after the September 11th attacks; along with the employees of 28 airlines that immediately went broke around the globe.

We come from a city, Melbourne, that is totally cosmopolitan - where multiculturalism started in the 1850s and continues today. Our city was born of people who strived to get there. They are still striving to get there. Unlike Sydney and Hobart, whose convict past has led to many 'colourful' families; ALL of our families chose to come to Melbourne. We included Americans (who first taught us gold mining and sealing), Chinese and all manner of Britains, Great and otherwise.

After the second World War we took the largest number of Jewish camp survivors in the world, and were the drop-off point for 100,000 German engineers, Italian labourers as well as labourers from 28 other European countries who constructed the Snowy Mountains Scheme between 1949 and 1974. It's the reason why Melbourne has the most diverse population of any city on the planet. And the best restaurants.

Our cafes are italian. We have been brought up to revere real Italian coffee. So much so that, after the GFC, 800 starbucks stores were closed in Australia - mostly in Melbourne. Only poofs put vanilla in coffee ...

Our taxi drivers are always the latest immigrants - currently Somalians. But before that Indians, Sri Lankans, Pakistanis, Lebanese, Cambodians, Vietnamese, Greeks and Italians.

Per head of population, we give homes to more refugees than any country on earth, and - with the Kiwis - have lost more of our sons fighting other peoples' wars.

The lady you offended's heritage is from Europe, believe me, she grew up being called a 'wog' - so your taunts don't hurt her. You couldn't pronounce her surname, (I can't).

Her point, in response to a tasteless joke I made; was to quote an English comedy duo, The Two Ronnies:

"Why can't Packies play footy?...
Cos every time they get a corner they put a shop on it!"

(http://www.urbandictionary.com/define.php?term=Packie Derogatory term for Pakistani, also used widely toward anyone of Indian/Asian decent especially Muslim. Commonly British usage).

You wrote:

"I am sorry to send this directly but I had no other choice. I am à British born Indian. I am sorry to say but your joke abt pakistanis came across as tasteless and old fashioned racism. Not all pakistanis own corner ships you know? (and I am not Pakistani either)...but I condone any Kind of hurtful or tasteless jokes. Its sad that such rubbish still goes on. We live in a globaliszd world and if some people dont accept that then.....*sigh*...its sad.

Its when someone reads things like what you wrote makes one sadly believe that most Australians are racist. Not everyone of course....but stereotypically Australians are seen as racist. "

... and so on.


1. I disagree. You had another choice. You could have sent me an email. We're friends. You could have asked me to clarify what she was on about.

2. You jumped to suggesting, inter alia, that she was a racist. And that most of my countrymen are.

Well, as I said above, I disagree vehemently that she is a racist - far from it. But I have to agree with you. I think ALL Australians are racists. I think ALL Maltese are racists, ALL English ( of ALL colour and background); ALL Vietnamese, ALL Bahrainis, ALL Saudis and certainly ALL Emiraties. I can't speak of other places, because these are the only places I have lived.

"What's the difference between a tourist and racist?" is a question I ask my new FOs.

The answer? "Three weeks".

As a new immigrant, try getting a phone connected in Saigon, Dubai or Melbourne and you'll soon become a racist - trust me.

I think ALL people are racist. Believe me, until you have heard Vietnamese talk of Indians, Chinese, Japanese and Koreans; you haven't heard 'Blue' language! And the stuff I heard being sprouted about Italians by Maltese, by Bristolians about Greeks ... and so on. That is the lot of xenophobic people who have never travelled. Who don't own passports. Or, worse still, who do travel (British soccer hooligans) - and shouldn't.

A lot of it comes from ignorance, but some is justified. Research: The Rape Of Nanking and you can understand why Chinese don't go out partying with the Japanese. Same for the Koreans. They have been invaded 2,000 times they say (Chinese, pirates and border skirmishes mainly) ... but the only two times they remember are when the Japanese stepped ashore.

But not Helene.

I am sad that you wrote what you did, I thought you were a journalist.

I don't know where you did your training, for I was taught that "We are nothing but trained observers". *

It's very easy to criticise people, but much harder to accurately observe them. "Why did she say that?" Is a valid response ... is she making a joke, or is she a racist? A quick email to me would have elicited that she is most definitely NOT a racist, she's making a harmless joke.

If she was a racist - (luckily none of my friends are) - then we'd take her down together.

I hope that you understand why I took you off my friends list; I can't be your friend if you think Helene's a racist. And I can't be your friend if you stoop to pigeon-holing a race, Australians, as racists.


That, my ex-friend, is being racist.



Sunday 14th April 2013

* H.L.Menken


GREECE NEEDS TO ...
Start Charging Full Retail

Greece has some of the best beaches in the world. I thought Australia did.

Then, as an Ansett refugee found myself flying an A320 into Zakinthos, broke thru cloud and realised I has been conned. Crystal clear waters, lapping white sand, with tiny ports with cafes right to the water's edge. (My dream of Albert Park when the seas rise ...)

It's not only me that has been conned. It's the Greeks. They make every Greek boy do national service - teach them how to use guns for 18 months (it may be 12 months now). The industries - textiles, clothing, footwear, manufacturing - have all gone. Just tourism six months a year. The boys are chucked back on the streets - educated in violence and unemployed.

After six months work on the islands, the money runs out around December. It's cold in Athens - and every year now they set fire to a few cars and protest. How smart is it to train people in violence and then let them starve? I joke that they are angry cos they can't afford to buy their Mums Christmas presents. But it's not far from reality.

Greece needs to recognise that its a six-month country. Just like Mt.Buller, Falls Creek and any other snowfield, the Greek Islands only work half the year, during the summer.

They have to start charging accordingly, knowing that the income has to tide them over all year.

We were flying plane loads of UK passengers to the islands who pay - wait for it - 400 pounds for a week - including airfare and accommodation!

There needs to be a realistic entry fee added to ALL Greek Islands; say 50 Euros a day per person. Maybe more. There are about 380,00 beds sold every night in summer, over 60 million annually.

Taxes on businesses have to be reduced to make business worth it. A colleague's family driving school (started in Crete) have had to close their Athens branch - it's not worth keeping the doors open.

Greeks need to concentrate on new technologies - making solar street lights would be a good start - using the labour available during the off-season.

Paul Keating was wrong - there never was a level playing field - not when you are trying to support the infrastructure of the many islands - having a squadron of ferries and jets ready for the April-September rush, providing all those docks and international airports, lighting the lights, supplying the water, removing the rubbish and processing the poo.

The world's tourists love visiting Greece ... they can start by putting the "money on the fridge".


December 2012

ABC CRASH - A PRINCESS DIANA MOMENT
When a hero crashes – we all stay silent.


When Princess Diana was killed in the Parisian car crash we had a great opportunity to save hundreds and thousands of lives. Instead we did nothing.

The legacy she left as spokesperson against land mines was laudable, but if you could have asked her, she'd probably have given the green light to an even larger campaign.

Princess Diana died because of two reasons – choices of her own making.

First she got in a car driven by a drunk driver and second, she didn't wear a seat belt. Her body guard, who sat in the front seat, was wearing a seat belt and is alive today.

If she was remembered for these two things she may have empowered people the world over to stand-up to peer pressure and thousands of young people who have subsequently died in crashes may be alive today.

Instead of using the emotion of her passing as a message for road safety – the moment passed – and was lost.

We Australians are in mourning after the loss of the ABC crew - a crew of heroes - in the chopper crash on the shores of Lake Eyre. Those of us who were Ansett Airline refugees feel even closer - journalist Paul Lockyer's wife flew for Ansett.

Those of us with the same number of flying hours as their pilot know in our guts what caused it. We usually stay silent. Deferring to the crash investigators, we wait for the initial report – which will tell us what happened. But the detailed analysis as to why will take over a year to surface, will be sanitised, and the emotional moment will be lost.

Let's look at history to see how this crash occurred. Another crash also happened in remote South Australia, in fading light or night (there is no link to the report on the ATSB website); when Erno Sopru crashed and was killed as he flew downwind, intending to land at a remote strip.

The exact same circumstances resulted in another crash at King Island, in July 1988 flown by Andrew Harris [business partner in The Daily Planet with John Trimble (nee Trimbole)] – He survived and was awarded the Star Of Courage for courageously rescuing his passenger despite 40% third degree burns and multiple injuries.

WHAT IS IT?

Visual flying in dusk or darkness, usually when flying downwind, the remote strip (or visual target, probably Lake Eyre, in the ABC's case) - with little or no extraneous lighting - maintains the same visual perspective. Your normal cues for descent, your peripheral vision, don't work unless you are looking in the direction of flight; so it's possible to maintain the exact spacing from the runway, and it looks exactly normal, right up until you hit the ground – if you are descending.

Why would you be descending?

In an aeroplane, it's because a light amount of forward pressure on the column / side stick is needed as each stage of flaps come out – pitching the aircraft down – completely changing the visual picture. And because of physiological tricks of the inner ear and vestibular system can 'reset' your brain to a false norm.

Instrument flying, where you train to believe your instruments rather than your eyes, is the fix. It's why we do 30 degree banked turns. Less than five degrees and, if you hold it for long enough without counteracting visual cues, your brain readjusts itself to a new 'level'. And you hit the ground five degrees wing low.

The transition from instrument to visual flying, or disorientation when visual flying, kills pilots around the world on a weekly basis.

As for helicopters? Well, most fixed-wing pilots hold these guys in awe. In flight school they used to say there was a special test to be a good pilot:

"Place your hand on your tummy and make circles. Then with your other hand – pat your head."

Easy? Now to be a good chopper pilot:

"Place a pen in your writing hand, and another in your non-writing hand. Then another between each big toe and the one next to it. Now sign your name four times simultaneously."

That's how co-ordinated you have to be.

There is no doubt that a healthy, highly-experienced chopper pilot can survive for years, locking-on to instruments the second a visual cue vanishes or doesn't seem right … the killer is when that warning-bell doesn't go off. When you think you are 100% visual – turn your head sideways, miss a cue for a second, turn back, and the dusk is that tiny-bit darker. Clip a darkened sand hill and it all ends in a flash.

Before you start to question the pilot's health ("but what if he had a heart attack?") or the aircraft's mechanical condition - you have to understand that military pilots are trained to go full-up anytime anything feels wrong. At altitude they can buy time to sort out the problem - (see Rule 1 below) which is why it was never wise to fly over the low level F111 area northeast of Tamworth.

And the chances of a sudden death heart attack? Very low in someone over fifty. Most sudden death heart attacks occur to men in their 40s, and very few who have regular aviation medicals.

After every crash like this we must remind all pilots - and implore all inexperienced ones – a night VFR (Visual Flight Rules) licence is a licence to die.

Just as an engine failure on takeoff in a heavily-laden twin can kill you (the second engine takes you to the scene of the crash); visual flying close to the ground at dusk or at night can also kill you.


Basic Flying Rules


Rule: 1. Try to stay in the middle of the air.

Rule: 2. Do not go near the edge of the air.

Rule: 3. The edges of the air can be recognized by the appearance of ground, buildings, sea, trees.

Never, ever, assume that you are any better than someone as highly-skilled and experienced as ABC chopper pilot Gary Ticehurst.

If he can get killed at dusk flying low, then none of us are safe.

Just don't do it.


21st August 2011







DON'T BLAME THE AEROPLANE
Air France 447 Cockpit Recording


The French investigators have released the Air France A330 Voice Recording which shows that the pilots stalled the aeroplane and failed to recover from the stall. Download and read the BEA document :2011 May 27 AF447 recorder

There has been a great deal of speculation as to why they couldn't fly the aeroplane, and which components performed well. Here is my response to one speculator (whose article appears HERE):

'I am an Airbus Pilot, have been since leaving the Boeing 727 in 1997. Flown A320,A321,A330,A4340 & for nearly three years the A380.

Let's talk about the elephant in the room … at FL350 they flew into a 51,000 feet high Cb. (Cb stands for Cumulo-Nimbus - thunderstorm - cloud).

The increased freezing level probably put them into clear icing immediately with updrafts (and downdrafts) akin to hitting a brick wall.

No Pilot, no sim can replicate what that'd be like. And we all hope we could have played the cards better than the people concerned. It's in our nature. But we'd be kidding ourselves.

I don't fly into thunderstorms because I doubt they are survivable. Nor has anyone, to my knowledge, in the last 20 years. With power of 10-100 nuclear blasts – and 95% of the lightning contained in the Cb – most of it mid level – and updrafts and downdrafts competing with each other amidst ice blocks as large as footballs – it's an environment not conducive to safe flight.

The question that has to be answered is: what were these guys doing in that Cb?

The answer is something that, for all of us in the future, we can control.

The A380 now has 'auto TCAS' – it alerts you that the autopilot will perform the manouvre, you take over if it doesn't.

What about 'auto Cb avoidance'?

It alerts you to the fact that if you get too close to a red active cell when it gets to a predetermined distance it will divert upwind. No matter if your radar is turned-down or off – or if you're taking controlled rest in the seat.

The pilot's bible, Handling The Big Jets, tells us,

"When faced with stalling a big jet or doing something else
… consider the latter".

In the A330s case, 'something else' would not be flying into a Cb in the first place.'


Go HERE and see the hail damage to an EasyJet Boeing 737 in 2003 - and they only flew close to a Cb cell, not in it.






QANTAS DEPRESSION II
747 Returns To Bangkok

A Boeing 747, QF2, started 'consuming fuel more quickly than normal' about 30 minutes after takeoff. It returned to Bangkok and another engine was flown up from SYD as a replacement. - 25th January 2011
To see the list of Qantas Woes since the A380 incident in Singapore, scroll down to QANTAS WOES CONTINUE



QANTAS DEPRESSURISATION
737 Rapid Descent

Two Boeing 737 pilots had a bad day in the office flying QF670 from Adelaide to Melbourne this morning when their pressurisation failed. They performed a rapid descent, deploying the oxygen masks, and proceeded to their destination at 10,000 feet - an altitude where supplemental oxygen is not required (for healthy passengers).

As usual the hacks at the Herald-Sun fired-up the dust-covered beat-up machine. Thank god there is always one shocked passenger, who has never watched a safety video or glanced at a Safety On Board card, who is ready to chat. Today he is Simon, a 'brave' chef from Adelaide, and his eye-witness account can be found HERE. - 25th January 2011
To see the list of Qantas Woes since the A380 incident in Singapore, scroll down to QANTAS WOES CONTINUE


QANTAS DEPRESSION
747 'Cooked Itself'

Passengers taxying out from SYD airport before taking-off to LA were surprised when the Captain announced that one of the engines had 'cooked-itself'; before returning to the gate. It must be hard to deliver the news ... but, as always, better to be in the ground wanting to get into the air ... than being in the air wanting to be on the ground. - 17th January 2011
To see the list of Qantas Woes since the A380 incident in Singapore, scroll down to QANTAS WOES CONTINUE



RIOTS IN ATHENS
It Must Be December

It must be December. This year it's about the financial crisis – again. Why?

This is what happens to a country when you outsource everything and rely solely on tourism. A proud country that can no longer make a car or pair of shoes lives on the wealth of its stunning islands. But they are only open in summer.

Sure, there is a huge amount of maintenance to keep people busy in March – all that salt air eats through wood and metal – so everything is painted (white and blue) each year; but it's not enough work for the men.

The islands are largely unpopulated from November to February, and the population moves home to Athens – where there is nothing to do. Unemployment is always around 10%, but it has climbed to about 12% at the moment. The IMF is expecting 14.8% by 2012, although the Wall Street Journal quotes experts who are saying one in five – 20% -- will soon be jobless.

Which might be ok, if you hadn't trained every single male in the art of violence.

Conscription, which takes every 18 year old male off the streets for violence training, ensures that the boys know how to riot effectively. The duration of national service has been reduced – it used to be 36 months – to 9 months.

So every year, after a few months of cold weather, and a couple of months since work on the islands ceased, the boys get frustrated and angry. Riots in Athens have become an annual pre-Christmas event. The fix is a creative plan to keep people employed all year – and come up with a plan to use that trained manpower over winter. What about a solar panel initiative? The cost may pay dividends, develop an area of excellence and provide dignity.

- December 20th 2010

FIRST OFFICERS UNDER THE SPOTLIGHT
Initial Reports Are Hard To Believe

Two recent incidents have come to light that have again raised the issue of inexperience on the flight deck. At the same time as an Australian Senate Inquiry looks into Pilot Training we hear of a Finnair FO selecting flaps up when the Captain asked for flaps full. Making the wing smaller at a time when the aircraft is slowing and approaching the ground is the prelude to a disaster, and the A320 dropped 450 feet below the glidepath. At one stage the aircraft was 14 knots below the minimum speed for the configuration. He realised his mistake and reset the flaps while the quick thinking skipper aborted the landing, making a go-around.

More frightening is the Air India Express FO who, when the Captain was taking a toilet break, disconnected the auto-pilot and pushed the aircraft into a dive whilst failing to answer the Captain's requests to unlock the door. The Skipper used the emergency code to gain access to the flight deck, then tried to recover the dive, using 120lbs force on the ageing 737s controls. But the FO was applying 200 lbs force in the opposite direction! The aircraft had oversped to Mach 0.82 and lost 7,000 feet. The FO claimed to have 'blacked-out'.

These are both two-crew air transport planes and the First Officer is not only an integral part of the crew, but the last line of defence; supposed to save the day if the Captain becomes incapacitated. They are not meant to be 'paid-passengers'. It's about time the public demanded to know just how qualified the people sitting up front really are. - December 13th 2010
Finnair incident HERE
Air India Express incident HERE The full Flight International report should be on the net soon.



QF32 PRELIMINARY REPORT
ATSB Releases The Report

The Australian Transport Safety Bureau has released the Preliminary Report into the Qantas A380 engine failure, read it HERE Information from the report has been added in orange to the list of failures dealt-with by the QF32 crew detailed below under the heading: AIR SAFETY AWARD CANDIDATES



BRILLIANT IDEAS
Free Ideas For Innovative Businesses

How about front loading washing machines for people whose IQs are above 80? The load would stop and you could open the door immediately ... instead of having to wait two minutes. You could call it the Intelligent Front Loader.

A Toast Holder for men. As all women know, men are wimps. We get the toast out of the toaster and it is red hot. We try to butter it by pinching the edges with our thumb and forefinger of our left hands, but it's like pinching molten steel. Rather than use oven gloves, my toast-holder would have a handle and two fixed blades set at 90 degrees, so toast could be held painlessly.



QANTAS A380s FLYING AGAIN
CEO On First Flight To SIN-LHR

The CEO, Alan Joyce, was onboard the uneventful flight as a show of faith in the modifications made to the Rolls Royce engines.

From "The Qantas Source" website HERE dated 24th November 2010 ... the source and accuracy of this information has NOT been checked or confirmed.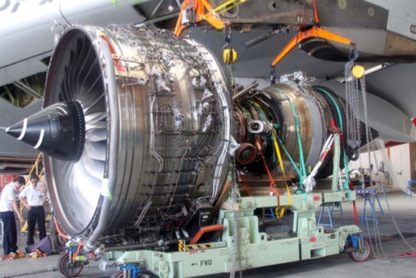 The damaged number two engine of the Qantas Airbus A380
in Singapore is removed from the wing on November 13, 2010. (Reuters)
from the ABC News website



''A380 QF32 aftermath and future plans:

VH-OQA sustained serious damage to the left hand wing during the QF32 incident. The aircraft is still held and under investigation. The aircraft is repairable but will require a new left wing. This will need to be manufactured, flown to Singapore and then fitted. This process will take several months.

VH-OQB is at Frankfurt where it was undergoing "C" Check at Lufthansa. There are no plans to return this aircraft to service until new engines have been sourced.

VH-OQC is at Sydney. There are no plans to return this aircraft to service until new engines have been sourced.

VH-OQD is at Los Angeles. There are no plans to return this aircraft to service until new engines have been sourced.

VH-OQE has positioned to Sydney. This aircraft has been retro-fitted with technical modifications made to components within the engines and will return to service this year.

VH-OQF has positioned to Sydney. This aircraft has been retro-fitted with technical modifications made to components within the engines and will return to service this year.

VH-OQG will be delivered shortly. This aircraft already had technical modifications made to components within the engines and will enter service immediately.

VH-OQH will be delivered shortly. This aircraft already had technical modifications made to components within the engines and will enter service immediately.

All aircraft flying will require engine inspections every 20 cycles according to EASA Airworthiness Directive. Those aircraft in service will be restricted to QF9/10/31/32 as these routes do not require maximum thrust to be used at take-off. There are no plans to re-introduce A380s to Los Angeles routes at this time.

The engine modifications to the Trent 900 engines were already in production before the QF32 incident which indicates that Rolls-Royce may have been aware of potential issues with the original design. The engines on VH-OQE, VH-OQF and the new build aircraft appear to have minor differences to the engines on the first four aircraft making them suitable for the component modifications.

The QANTAS A380 engines are owned by a Hong Kong bank and maintained by Rolls-Royce with QANTAS paying on a "power by the hour" basis. It is unclear whether QANTAS were aware of the differences to the engines on VH-OQE/F. The engines on VH-OQA/B/C/D may need to be replaced with new engines, possibly from the A380 production line, with the original engines returning to Rolls-Royce for rebuild.

Both QANTAS and Airbus have made it clear that they will be seeking significant compensation from Rolls."





QANTAS WOES CONTINUE
Celebrating It's 90th Year


Qantas A380 engine suffers catastrophic failure returns safely to land in Singapore
Qantas B747 engine suffers failure after takeoff returns safely to land in Singapore
Qantas B747 suffers hydraulic problem arriving in London Heathrow
Qantas B767 engine suffers vibration returns safely to land in Perth
Qantas B747 'smoke in cockpit' returns safely to land in Sydney (15th Nov 2010)
Qantas / Jetstar A320 hydraulic failure returns safely to land in Brisbane (16th Nov 2010)
Qantas B747 engine suffers damage after bird-strike returns safely to land in Jo'burg (17th Nov)

First 'non-Qantas' news for a fortnight ...
Virgin Blue aircraft 'smell in cockpit' returns safely to land in Melbourne (19th Nov 2010)

Qantas B747 engine suffers 'a problem' while QF1 was taxying towards a runway in Sydney (28th Nov)
Qantas B747 engine 'cooks itself' while taxying towards a runway in Sydney (16th Jan)
Qantas B737 performs emergency descent after depressurisation ADL-MEL (25th Jan)
Qantas B747 engine 'consumes more fuel than normal' return to land at Bangkok (25th Jan)

Congratulations must go to all the crews, who despite the bad publicity for the brand during their 90th birthday celebrations, stick to the procedure and perform inflight and on ground returns -- thereby adding to the media speculation. We must never castigate pilots for taking the safest option, even when it ruins passengers' travel plans; ... the old adage still applies:


"What's worse than be stuck on the ground when you should be in the air?"

"... being stuck in the air when you should be on the ground."


Being under the media magnifying glass is hell, as all Ansett Airlines refugees will attest. If passengers start leaving the airline in droves, the Flying Kangaroo may well bounce into oblivion.



ON A WING AND A PRAYER
Mentioning The Unmentionable


On the 24th of April 1989, the ABC TV's Four Corners ran a program called 'On A Wing And A Prayer' which examined recent changes in the national carrier's engineering policy. The reporter was Mark Colvin – currently anchoring the PM radio program.

Qantas management had made the decision to 'release' their recently-qualified apprentices. This was a first in the carrier's history. Previously all apprentices, after concluding their training, were offered full time positions with the company.

The company had started outsourcing maintenance – to AerLingus from memory.

Two interesting interviews were conducted during the show. One was an anonymous QF Captain who had grounded a 747 after they asked him to take an aeroplane with something like 30 defects. He said (sic)"I don't mind bringing an aeroplane home with 30 defects – minor cabin items and the like – but I won't take one OUT of Sydney after maintenance".

The most disturbing interview was conducted with an engineer who was in charge of a new 747 under production in Seattle. He had walked into the semi-constructed aircraft and found a Boeing worker suspending his whole bodyweight on hundreds of wires, with Canon plugs on them, coming down from the cockpit. When challenged, he had told the interviewee that he 'always had to stretch them to make them reach the wiring loom'.

This led to a detailed discussion about the use of Kapton wiring – and its properties of becoming brittle and arcing with ageing. Maybe 4 Corners should re-run the program.

It is believed that the US Navy and Air Force has removed all Kapton from its aeroplanes. The space shuttle – also full of it – is being retired, partly due to the problems with replacing the wiring.

Yet it exists in older commercial aircraft.

Procedures have been modified. No longer do pilots reset a popped circuit-breaker. All systems have back-ups, so there is no need to cause a possible arcing.

Upon hearing the words 'smoke in the cockpit' a chill runs through the bones of every aviator.

Memories come back of Swissair 111, an MD11 that was lost near Halifax, Nova Scotia in September 1998, in which 229 people died. 53 minutes after leaving New York a fire began in the inflight entertainment system. Nineteen minutes later the aircraft crashed.

In September this year, in a crash that was totally unreported in the Australian media, a young UPS Boeing 747 cargo plane crashed near Dubai airport, killing the two pilots onboard. (see A 747 CRASHES AND NO-ONE KNOWS further down this page). The onboard fire started soon after takeoff – reportedly in lithium mobile phone batteries being carried. The smoke was so thick they could not see radio frequencies or their instruments.

Unlike other aircraft, Airbuses can be depressurised and RAM AIR used to clear smoke. Pilots can even open the cockpit windows.

Whilst passenger flights have the added benefit of flight attendants, who are all trained fire-fighters (and who have skills examined annually), there are three things pilots know about onboard fires:

1. They usually start within two hours of departure.

2. You have two minutes to get the fire under control.

3. If you don't, you have to land the aircraft within twenty minutes.




Melbourne Radio 3AW interviewed a passenger on the 747 that returned to Sydney with smoke in the flight deck, listen HERE

BBC Panorama TV ran a story on Kapton wiring, the link to the transcript is HERE.

Their journalists wrote a story which was published in The Age HERE.

Channel 9's Sunday Program, tackled the matter transcript HERE.

Aviation Today has some interesting information HERE.

The Canadian report into Swissair 111 can be found HERE. For a download of the .pdf -- click HERE and search for 02 September 1998

For detailed analysis of wiring types, Australian airline pilot, Alex Patterson has produced a chart of the types of wiring used HERE.













AIR SAFETY AWARD CANDIDATES

QF A380 Captain, First & Second Officers Deserve Awards

As a recipient of the Air Safety Award (ASFA) and President's Award (AOPA) in 2000, I am recommending that the operating crew of the QF A380 be given the same awards for 2010.

The following is an email being passed around by a friend of the Captain Richard Champion de Crespigny of the QF A380. It has been edited to remove emotion. Note that the facts stated have not been tested, it may contain inaccuracies. Some of the A380's amazing redundancy has been added in italics to show that the A380 is very safe. Where possible information has been updated with reference to the ATSB Preliminary Report. This incident in a 'classic' airliner would have been extremely serious. Even so, 'bad days' like this should only be had in the simulator.

………………………….


"Here are just some of the problems Richard had in Singapore last week aboard QF32 after the engine exploded.

1. Engine No.2 Failed – with damage.

2. Fuel leak in the left mid fuel tank (the A380 has 11 tanks, including in the horizontal stabiliser on the tail which holds 18 tonnes of fuel – on such a short flight it would have held about 13 tonnes).

3. Fuel leak in the left inner fuel tank.

4. A hole on the flap canoe/fairing.

5. The aft gallery in the fuel system failed, preventing many fuel transfer functions.

6. Fuel jettison had problems due to the aft gallery problem. No jettison was carried-out.

The crew may have opted to return to land – overweight – at takeoff weight without jettisoning fuel. Unlike other aircraft, the A380 is always capable of landing at the maximum takeoff weight. This flight was about 120 tonnes under maximum takeoff weight. Landing distance would have been less than the 4,000m long runway at Singapore. It is wise, if time permits, to reduce the landing weight anytime the aircraft is crippled. In this case – on a dry runway, thrust reversers are NOT taken into account to determine landing distance. In this case (the A380 only has reversers on Engines 2 & 3), one reverser was inoperative, but the remaining one would have reduced actual landing distance moreso than indicated on the Ldg Performance module.

7.A hole in the upper wing surface.

8. Partial failure of leading-edge slats. Loss of Green system means No Slats.

9. Partial failure of speed brakes/ground spoilers. Half would have been available.

10. Shrapnel damage to the flaps. Unknown to the pilots and probably did not reduce the performance.

11. Loss of all hydraulic fluid in the Green System (the A380 has 2 x 5,000 PSI systems, Green and Yellow) – The remaining Yellow system provides that all surfaces (except Slats); are powered -- unlike all other aircraft, the A380 has electrical-hydraulic backup to all flying surfaces as a final redundancy.

12. Manual extension of landing gear. Time consuming (about 2 minutes), but not an issue. The gear weighs 27 tonnes and extends by gravity.

13. Loss of one generator. (3 others plus APU generator are available. All of them can be lost, leaving Emergency Electrical still available using the Ram Air Turbine) In fact No.1 disconnected as well when the wiring was damaged, leaving #3, #4, APU & RAT (emergency) available. Automatic shedding of 'commercial' electricity would have occurred although we know that there was enough to continue to run the onboard entertainment system -- one of the first things cut if there is an issue with lack of electrical power.

14. Loss of brake anti-skid system, Pilots modulate braking with reference to a pressure gauge in Alternate mode. Brakes still work, even if Normal system failed, Alternate, Emergency and Ultimate are still available, (more redundancy than any other aircraft). In fact one set of gears was in Normal mode, the other in Abnormal - without anti-skid.

15. Unable to shutdown adjacent #1 engine using normal method after landing due to damage to the electrical harness. Yet the crew had full control of Eng #1 during flight. The shutdown cabling had been destroyed, which wasn't known until after landing. The crew adopted a novel approach using manual thrust - the autothrust had failed - they left #1 & #4 in the same position on approach, using #3 to increase and decrease speed. This is not an Airbus procedure. This may be the reason why the aircraft dropped below Approach Speed twice during the approach, kicking the auto-pilot out. The second time, at about 1,000 feet, the handling pilot elected to fly manually. The pilot was mindful of the landing distance and was making sure he was not too fast.

16. Unable to shutdown adjacent #1 engine using the fire handle after landing due to damage to the electrical harness. (see point 15 above)

17. ECAM warnings about major fuel imbalance because of fuel leaks on left side, that were unable to be solved with cross-feeding; (the A380 can still fly with an imbalance).

18. Fuel trapped in Trim Tank (in the rear stabiliser). Therefore, possible CofG out-of-balance condition for landing, but not outside the flight envelope.

Further information has become available:

19. Bus #2 is supposedly automatically powered by Bus #1 in the event of Engine #2 failure - this didn't happen. As AC Bus 1+2 both failed -- as cabling to the #1 Generator was severed and #2 engine was inop.

20. After some time the RAT deployed for no apparent reason, locking-out (as a load-shedding function) some still functioning services. It seems the aircraft was in Emergency Electrical configuration. The self-deployment would have arisen due to the main electrical busses not being powered. This is not mentioned in the Preliminary Report and contradicts evidence that the passenger entertainment system was still working..

21. One of the frequently recurring messages warned of the aircraft approaching the aft CoG limit (the procedure calls for transferring fuel forward), the next message advised of fwd transfer pumps being u/s. This sequence occurred repeatedly. Gravity feed should have been available but it is time consuming.

22. Landing / approach speeds are obtained from the FOIP, but there weren't sufficient fields to load all the defects for speed corrections - the crew loaded what they thought were the most critical ones.

23. The crew commenced an approach NOT because they'd sorted out all the problems but because they were very worried about the steadily worsening lateral imbalance.

24. The aircraft stopped with just over 100 metres or runway left, brakes temps climbed to 900C and fuel pouring out of the ruptured tank. Unable to shutdown #1 engine (as previously mentioned) but elected not to evacuate as the fire services were attending in great numbers. It turns out that Normal braking was available and used on two bogies and Alternate used on the other two. The '100 metres' statement was correct, but the crew modulated braking so they pulled-up near the RFF crews. If they had wished to stop in a shorter distance they could have. The crew had full control of engine #1 throughout the flight, they just couldn't shut it down.

25. The source of the above comments were from someone who was on the flight deck.

The Captain was in the left seat, First Officer in the right, Second Officer in the right rear second observer seat with his own Radio Management Panel, so he probably did most of the coordination with the ground.

A Check & Training Captain was in the first observer seat (middle). He training another Captain, (who was in the third observer seat, left rear), to become a Check & Training Captain.

All five guys were flat out, especially the F.O. who would have been processing complicated 'ECAM' messages and procedures."

Normally the entire process would have been handled by Captain and First Officer only. The A380 is a two-pilot aeroplane and all sim sessions for other airlines are handled by two crew only. (i.e. All other A380 operators do not have Second Officers to do radio work).






SINGAPORE WOES

Singapore Airlines Grounds Three A380s

Singapore Airlines; another user of the Rolls Royce A380 engine, (Lufthansa is the other); has grounded three A380s after engine inspections in London and Australia. News reports on Australian radio stated that 'the crew refused to fly on the aeroplanes'.



QANTAS WOES

Qantas B747 Engine Failure After Takeoff

Another Qantas plane has had to return to Singapore after an engine failure. A Qantas spokeswoman has confirmed QF6, a Boeing 747 from Singapore to Sydney, experienced a problem with its number one engine shortly after take-off at 9:17pm (local time) Friday, and returned to land safely. Some of the passengers were also on the A380 that suffered an engine failure, see below. The poor buggers can't take a trick.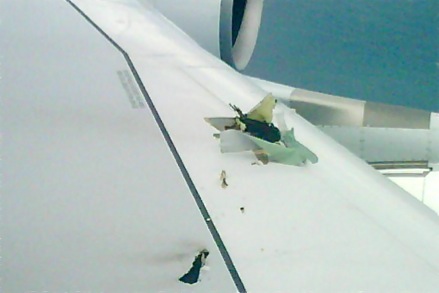 This pic, from the upper deck, was taken by passenger Christopher Lee.

Qantas A380 Engine Failure After Takeoff

The Twitter-world went crazy with reports of a QF crash into an Indonesian island. Reports were dispelled after a very tense hour. QF32 was headed from Singapore to Sydney and suffered a failure of engine No.2 six minutes after takeoff. Pieces of the rear engine cowling were recovered from nearby Batam island, a resort frequented by Singaporeans. The aircraft can easily fly with one engine-out, and even without two! Pilots are tested for this every six months, the manoeuvre is not even stressful -- even when the simulator examiner adds massive vibration and even a fire. Engine failure on takeoff is probably the most-tested item.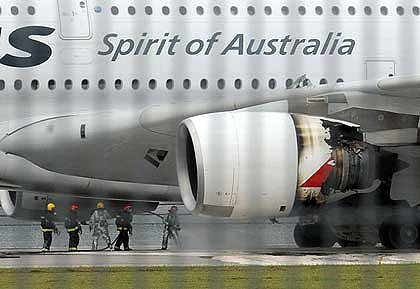 Photo : AFP From The Age website


Photos of the parked Qantas aircraft, after returning uneventfully to Singapore, (after dumping fuel for about 60 minutes to reduce the landing weight), show that the engine's huge front fan was contained -- as designed. See how the engines are tested in this remarkable video, HERE. BBCworld TV shows firemen hosing foam into the No.1 engine, to flame out the engine as it could not be shut down by the crew. Heavy braking on an overweight airliner may cause the tyres to deflate as fuse plugs in wheels melt from excessive brake heat -- otherwise they could explode. Dousing the brakes with a water-foam mix prevents them from catching fire.

It turns out that the aircraft was substantially crippled, with the crew handling 52 separate procedures, (according to press reports). One hydraulic system was out, requiring the crew to manually lower the 27 tonne landing gear by gravity extension. The A380 is the first airliner to have backup electrically-powered flight control systems, so everything operated normally, except the front wing slats - so the landing speed would have been a few knots faster than normal.

An unnamed passenger reports that the Captain (there were three operating the sector - a Check or Training Flight along with a First and Second Officer) said fuel was leaking from the dead engine once it parked. 'The landing was perfect!' he said. Passenger Lars Sandberg told BBCworld that they dumped-fuel and that the Captain was doing PAs 'every five minutes' -- instilling calm and confidence in the passengers. When they deplaned there was a smell of spilt jet fuel. Another passenger, Christopher Lee gave a wide ranging interview to ABC PM, listen to it HERE. His photo (above) shows holes in the number two slat at the front of the wing.

Those of you concerned by flying and aviation technology should be amazed by how often everything works as designed, thanks to the perfectionism and professionalism of the engineers ... for which the flight crews offer their undying thanks and admiration. Think about that next time your flight is delayed due to a technical problem.

Qantas and Singapore use the Rolls Royce engines. Emirates A380s use EA (Engine Alliance) engines. Qantas has now grounded their six A380s from takeoffs until engineering data is examined. This is an engine manufacturer problem, not an airframe one, caused by the failure of a second stage compressor blade. The A380 (airframe) is still safe to fly, indeed, this incident shows just how well the aircraft performed. Singapore Airlines is continuing to fly their 12 Rolls-powered A380s.




PAID PASSENGERS – AT WHAT COST?


Two days ago a Qatar Airlines Captain died, after a heart attack, during a flight from Manilla to Doha. His First Officer diverted the aircraft to KL and landed safely.

This tragic event, whilst having a safe outcome for the rest of the crew and the 260 passengers; is a wake-up call for the industry. And if the industry isn't listening, for the passengers.

Gulf airlines tend to employ highly experienced pilots who have had entire careers at airlines in their home countries before embarking on an expat lifestyle. And they spend big money on simulator training, most having their own simulator centres. Their FOs train-for and are examined on their response to 'pilot incapacitation'.

Currently the low-cost carriers in many countries are suffering a pilot shortage and are populating their right seats with very inexperienced crew. They outsource their simulator training -- paying by the hour. Pilots have to pay for their own aircraft endorsements - around $25,000. That they are suffering the shortage may be due to their inability to pay reasonable wages, meaning that experienced pilots have chosen to go offshore in search of a proper income.

But it's more than this. Four sector days with no overnights, mean you have to drive to the airport, pay tollway charges, park the car, catch a bus to the terminal, fly; then do the reverse, every day of your week. It's fatiguing, and in Australia, for 67% of what you were getting paid a decade ago.

One 'low-cost' (in more ways than one) Captain recently told me that his new A320 First Officer, whilst intelligent and enthusiastic, had previously only flown one type: a Cessna 152. A forty year-old two seater training aircraft.

Now, when the Captain has his heart attack, in an aircraft that may be carrying numerous defects, on the proverbial 'dark and stormy night' … you have to ask: is the new F.O., under training, and little more – experience-wise – than a paid passenger, going to perform as well as the Qatar Airlines First Officer in K.L.?

I hope we never have to find out, but fear – more likely – that one day we will.


15th October 2010



AFFORDABLE SAFETY?
-- FOR A COUNTRY WITH NO MONEY


POLICE in Victoria's southwest are looking for a plane after a man saw one emitting smoke, heard a loud bang before losing sight of it.
The man rang emergency services about 11.20am saying he had spotted the plane, but then couldn't see it, in Logans Beach, near Warrnambool.
Sgt Dale Barclay, from Warrnambool police, said local police were searching the area, but hadn't found any debris.
"There was no plane reported missing," Sgt Barclay said.
"There was a military plane that was cited further down the coast. We think it might be that.
"At this stage we're just going through the motions making sure we haven't missed anything.
"We're certainly not thinking at this point in time that there is a plane crash."


reprinted from HERALD SUN website 16 September 2010



In the olden days, (before Dick Smith), there would be an Operational Controller and Flight Plan looking after all planes (except a small percentage below 5,000 feet amsl).

Within two minutes of missing a reporting point we'd have been alerted. Now?

"..At this stage we're just going through the motions..." What a joke.

Dick Smith has finally received what he wanted:

'affordable safey'

-- and it seems we just ran out of money.


Australia -- the cleanest third world country in the world.

17 Sept 2010




TIME TO LEAVE AFGHANISTAN?


In terrain that has defated every invader since time began, Australians are fighting, and dying, in Afghanistan. The futility of Armed Forces Vs Terrorists becomes apparent to anyone who has seen the geography.

The only time terrorists have ever been defeated was in the Malyan Emergency where armed forces were supported by the hard-slogging detective work of the Police Special Branch.

Now that Afghanistan has become the longest war for both the USA and Australia; with the President and the United Nations telling us that The Taliban may actually be our friends after all; it seems that the public is becoming restless.

Motivated as we are by images, we will stay until we are shown a defining image of the war's futility ... to sicken and revolt the Mothers who continue to send their children to fight. In Vietnam, it was the police chief executing a plain-clothed viet cong soldier in the 1968 Tet Offensive, and followed-up, after the decision to pull-out, with vision of napalm-victim Kim Phuc. But today the media is controlled in Afghanistan and there is little chance of such an image making it onto the front page.

As letter writers flood the Australian press imploring their government to pull-out, a lesson in history may be gleaned from the U.S.A's Vietnamese disaster - the only war they have lost. It's widely agreed that if they had stayed an extra three weeks they would have starved-out the Viet Cong in the southern half of the country, and maybe won a Korean-like victory. Food for thought.


16th Sept 2010




AUSTRALIAN'S 1,000 MPH RECORD BID



Rosco McGlashan's attempt to travel at 1000 miles an hour in 20 seconds -- and live -- will end in tears.

He may like to use carbon fibre and ceramic wheels, but the grease and wheel bearings will fail; as designed by its manufacturers.

Like the late Tommy Watts before him, he will soon morph from driver into passenger -- before disintegrating.

Having flown the Boeing 727 and all Airbus products since the A320 -- the best wheel bearing / grease combination we can achieve is 195 knots (361 kph).

If Rosco has developed grease and bearings good enough for 1,600 kph -- now THAT's a story.

13th Sept 2010





A 747 CRASHES AND NO-ONE KNOWS.



A well-maintained and operated Boeing 747-400 owned by the world's largest parcel service, UPS, performed a normal takeoff from Dubai.

It headed off to Cologne, transferring to Bahrain's ATC frequency.

Soon an onboard fire became evident and the crew declared an emergency, turning back to Dubai.

Authorities made available both Doha and Dubai airports to receive the emergency. Dubai's rescue fire fighting service is Category 10, to handle the Airbus A380s. A jumbo only requires 9.

The Pilots chose Dubai, but conducted an approach too high, and too fast. It is thought that the crew were dead before the aircraft started the Dubai ILS, 4,000 feet too high.

Sadly the smoke was too thick for the pilots to see the radio panel to change frequencies, so ATC chat was with Bahrain, and when they were out of range, relayed via another aircraft UAE 001. That aircraft's Captain was the last person to speak to the UPS crew. Incidentally he was conducting his last flight before retirement.

After tracking on the localiser it was soon descending, screaming overhead 580 houses in the 'Silicon Oasis' suburb -- populated by many Australians. Moments later it slammed into the ground, killing its crew and traumatising hundreds of horrified adults and children who were first hit by a pressure wave and then staggered by the sight of a massive fireball in the night sky; (it was 7:39pm local on Friday night 3rd September 2010 ... 02:39 AEST).

The jumbo made it past the suburb and into a military base, bouncing once in a car park and then exploding in flames. A number of expat pilots ran to the wreckage after initially mistaking the aircraft for a passenger flight.

It was the lead story on CNN, carrying the same weight as the Darfield, NZ earthquake. For it NOT to be reported by the ABC or commercial radio news, the weekend newspapers or television makes you wonder just how myopic the Australian media really is. Local flooding, a small plane crash in NZ and the Darfield earthquake; the AFL and ongoing election ramblings taking precedent.

Maybe the 747s disintegration was ignored because it crashed in Dubai.

My concerns are these:

1. It was lead story on many news services in the world.

2. It is not a shonky carrier, (instead, one of the elite).

3. The pilots were not drunk Russians quaffing Vodka, they were highly trained and skilled.

4. The ICAO regulations regarding Dangerous Goods are, these days, extremely strict and well-regulated ... this is a very rare occurrence. So what the hell happened?

5. There must be thousands of people affected, if only by the destruction of their parcels, letters and so on.

6. Terrorism cannot be ruled-out. UPS is a US carrier. (Subsequently there were two bombs found which had been destined for freight aircraft. Each had originated in Yemen. Al Qaeda in the Arabian Peninsula have since claimed responsibility for the UPS crash HERE).

What is going on when the Australian media misses a story like this? What else are they missing on weekends?



11th Sept 2010



AUSTRALIA'S AVIATION FUTURE


Pilot salaries and conditions have been steadily declining for years, which is why they have been flooding the Middle Eastern airlines that continue to pay higher wages.

That's why there are thousands of Australian pilots working overseas who cannot afford to return home and fly for The Flying Doctor or regional carriers such as Regional Express, (a combination of Kendell and Hazelton Airlines); and whose pride won't let them fly for Jetstar, Tiger, Virgin Blue who are paying pre-1990 prices.

In 1990 an Ansett Captain received 217 dollars per flown hour, ($165,000 for about 760 'stick' hours).

In 2010 a Tiger Captain receives about 123 (1990) dollars per flown hour; 111,000 1990 dollars for 900 'stick' hours adjusted for inflation ($180,000 in 2010 ); 67% of the Ansett Pilot's salary.

Yet a Tiger A320 Captain transports 180 passengers, opposed to about 136 in the Ansett A320. So they are even more productive.

A Tiger pilot carries 81,000 passengers per year as compared to the Ansett pilot, who carried 51,680.

So as well as receiving only 67% of the Ansett Pilot's wage, a Tiger Pilot is doing the same work as 1.56 Ansett Pilots.

During that time, the inflationary indicator that measures the change in the cost of a fixed basket of products and services, including housing, electricity, food, and transportation (called the Consumer Price Index), has risen by 162%.

The 'per flown hour' is a relative number which in no way reflects the real number of hours worked.

Pilots are not paid for sitting in the cockpit before flights (when most of the tricky problem-solving issues are encountered), or after flights, when interfacing with Engineering or Regulatory personnel. Or in the office flight planning, (arguably the most important part of the day); when transporting to and from the aeroplane; or in simulators every six months for the licence renewal; or whilst attending Doctors' surgeries for medicals; or when studying at home, (required to maintain professional standards).

Besides curbing alcohol and drug consumption, the job encroaches into private lives in other ways. For example – very few books are read for pleasure, since the professional reading requirements are high.

But what is rarely-mentioned is the entry cost, the after tax-dollars cost of learning to fly to the level of Airline Pilot. About $100,000 to $180,000 depending on your choice of school.

The figures above apply to those at the top of the profession. So, as a return on investment, the job of being an airline pilot no longer rates consideration.

As the industry has increased the retirement age to 65; (and now no limit in Australia … there are captains still flying in their 70s); the promotion has slowed, resulting in First Officers (who receive only 50-65% of Captain's salaries) not receiving their commands until well into their 50s. One recently received his first jet airliner command, (on the A320), at 61, forty years into his career.

That's a long time on apprentice's wages.

Hero A320 Pilot Sullenburger, who parked his A320 in the Hudson River, told the US Congress what he thought about the destruction of his profession. His biting remarks can be seen in Michael Moore's latest documentary in which he turns his lens to the issue of pilot salaries in the U.S.A., and reveals that one crash occurred as pilots were distracted in a discussion about their salaries and fatigue.

So, who would be a pilot in the future? It's always been a trade-off between love of flying versus low salary, versus cost of obtaining the licence and experience.

Retired Qantas Captain Sandy Howard told ABC radio in February that many people are choosing to follow a high-earning career and fly recreationally instead of becoming an airline pilot.

Already, Captains are complaining that their new co-pilots are more inexperienced than their counterparts from twenty years ago, and lack the important crash-saving intangible: "situational awareness".

This reporter wrote an advertising campaign for an aviation textbook publisher in the 1990s that predicted the day when co-pilots would arrive on the flight decks after having passed many 'exams' (from prepared cheat notes) but had never been 'tested' in the real world. At least their books were interested in imparting knowledge, not just test results like the opposition.

That day has already arrived.

It has always been the case that the pilot in the right seat has been earning less than the Cabin Attendant in regional aeroplanes. Are you happy that the Captain of your airliner, who is trained and ready to fight to the death to save you from the worst aviation catastrophe imaginable, is so financially disadvantaged compared to say, the person compiling your tax return?

And will you still be happy to get in the same aeroplane the day after that Captain retires?



See the five minute segment, taken from CAPITALISM : A LOVE STORY here http://www.wimp.com/pilotsstamps/





TAKEOFF "TOGA" CALL


The problem with takeoffs in airliners is that, for a few seconds, the other pilots on the flight deck are little more than paid passengers.

After confirming that the thrust is correct, then announcing "100 knots"; the philosophy is that the STOP / GO decision is up to the Captain.

But what if he or she is unaware of, or misdiagnoses a developing issue? And the others are ... explaining things at 200 kph is difficult. And if they were that easy to explain the Captain would have already noticed.

A dragging brake, or the aircraft enters a pool of stagnant hot air in a dip on the runway (like at Darwin) and the aircraft stops accelerating ... or a bang from an exploding tyre that is misdiagnosed as an engine failure are all examples.

Rejecting a takeoff close to V1 with a blown tyre which you think is an engine failure can have catastrophic consequences. V1 assumes that the tyres and brakes will work. Better to take it into the air and land on the full runway length.

Windshear that hasn't fully developed, so you are not sure ...

I think we should have a standard call in all aeroplanes for takeoff.

"TOGA" (It means Takeoff / Go Around)

Upon hearing it, from anyone ... even an augmenting pilot looking out the side window and noticing the runway lights are not speeding-up ... just yells TOGA.

The Pilot Flying just advances the thrust levers without question. It's enough that someone in the cockpit, with all their experience, has seen something no-one else has.

After airborne they can all discuss it and decide if the call was warranted.

But at least they will be alive to talk about it.

You'd hate to have crashed off the runway and find out later that three of the four Pilots on the deck knew it was a blown tyre, whilst the Captain had thought it was an engine.


Something not right? YELL TOGA!!



22nd December 2009




TAILSTRIKE WOES


The ATSB has released their Interim Factual Report into the EK 407 tailstrike at Melbourne Airport.

It is available HERE.

How about this, as a change to the LPC (Less Paper Cockpit) module:
(a) Crew enters Zero Fuel Weight
(b) Ramp Fuel
and the program then calculates the Takeoff Weight.

This removes the possibility of crew entering the incorrect takeoff weight.

Meanwhile, the ZFW and Fuel figure entry cells are set to reject impossible values.

18th December 2009



TIGER WOES


Ah Tiger's wife must be a firecracker, using a golf club to smash the rear window! I would have just opened the door ... more to this, methinks.

Police say they were dealing with a traffic crash, and didn't think it was a domestic issue.

Where's Det. Columbo when you need him?

I think this is what happens to a golfer when he 'plays away'.

28th November 2009



MELBOURNE'S NEW DAM


OK. THAT'S IT. I've had enough looking at the Australian Bureau of Meteorology's weather radar and seeing the rainwater miss our coastline.

Melbourne's new dam MUST be situated in Bass Strait, between Cape Otway and King Island.

Fresh water floats, so it's not as silly as it sounds.

You just get a floating membrane, like a huge swimming pool cover, and surround it with a massive floating pontoon. Then wait.

20th November 2009



WILL THE DREAMLINER EVER FLY?


The Boeing 787 is delayed again. Some people are predicting it'll fly on the 22nd December.

But which year?

It's my opinion that they have chosen the wrong strategy, believing in "more flights, more often" ... where passengers travel point-to-point.

It is, after all, only a plastic 767 with sexy wing tips.

But in a world where oil is never going to below $80 a barrel, ( that's what the Saudis need it to be), and indeed where supplies are running out; I believe that point to point can't work. The public won't stand for it.

I think Airbus' model, where bigger planes fly to hubs, will win out in the end.

Take Air Malta. They have two slots a day into London Heathrow. They are never going to get more slots. There aren't enough hours in the day.

They started with BAE 146s, then 737s, then A320s as their passenger numbers increased.

One day they'll need A380s to meet passenger requirements ... and they'll fit them all into the two slots a day.

I haven't even addressed the problems Boeing are having with suppliers from all over the world ... but they are enormous. The ex 787 Project Manager said that Boeing will never ever build an airline like this again.

And if you think I'm being overly pessimistic, just cast your mind back to the biggest billboard in Australia at Sydney Airport.

It used to have a picture of Boeing's Super Sonic Transport ... Sydney to LA in a flash.

Can you tell me where to get a ticket on that Dreamliner? Oh, that's right, you can't. It was never built.

What they need is to forget the 747-800 and go for a full upper deck stretch. Call it the 747-999 and get on with it.



17th November 2009



AIRBUS MUST DO THIS


Airbus sells 'planes in USD then makes them in Euros ... some bits are even made in British Pounds.

This is a guaranteed way to go broke.

For the new A350 they should build them in Jebel Ali, next to the new Al Maktoum Airport.

Qatar have about 99 on order, and Emirates about 129.

Building them in the region where they'll be sold, effectively in US Dollars, is the only option.




17th November 2009



RUPERT MURDOCH NEED NOT WORRY


He is worried about the demise of newspapers and the proliferation of free online content.

But he need not worry.

Just change people's perceptions and market the product differently.

I have never been able to get the daily newspaper delivered. As a single pilot living month to month with flight rosters for over twenty years, I could never guarantee to be home to extract that daily paper out of the letterbox.

And why would you anyway?

The move to cheaper paper which curls after one reader has had a go and rolled-up glad wrap covered editions being the order of the day for home deliveries ... the daily paper IS no longer palatable.

So how is that I spend more on newspapers than ever before?

I use www.newsstand.com to have my daily copy of The Australian delivered directly to my computer. It's the exact same copy that you buy at the shop, but much better.

With a large HP swivel screen in portrait mode, which is as large as a page of The Oz, I can zoom in on any ad or article and have a great newspaper experience.

Plus I can do a keyword search of all my past editions.

My www.pressdisplay.com subscription is extra. Similar to newsstand, it has just about every newspaper in the world, delivered in the same way.

I read more newspapers than ever before, and spend more money on my subscriptions than the families who only get one paper a day.

So there it is, Mr.Murdoch, tell the world about these two products, charge your normal fees, and save the planet at the same time by reducing newsprint usage.



17th November 2009



TWEETING ON A JET PLANE


There are thousands of professional jet airline pilots who take their job seriously. They get adequate rest before their flights and use whatever techniques at their disposal to stave off boredom during those long hours when the aircraft is in the cruise and the skills required are more flight management than stick and rudder.

The Airbus A380 has a nifty little built-in device called Time Marker. You look at the flight plan, determine when the next ATC frequency change or position report is required and enter the time. It displays the time on both the electronic Flight Plan page and on the Navigation Display.

Tick the 'audio alert' check box and a woman's voice announces "TIME MARKER". Job done. It is also a great aide memoire to set just before the Latest Safe Divert Time. While coping with another emergency at the destination airport, to save getting sidetracked, the time marker reminds the crew that they now have to divert to their alternate, no questions asked.

The facility is available on the earlier Airbus aircraft, but having been brainwashed onto the A380 over a year ago, I can't remember if the aural alert feature is available. That two pilots either failed to use this facility to aid their situational awareness is worrying. If they did, and still lost situational awareness, then that is very disturbing.

One is left wondering if they 'periodically reviewed' the seven aircraft systems page displays, as required by the Flight Crew Operating Manual. While a time is not stated, Airbus says 'periodically' as every twenty minutes. It is very easy for pilots for rely on the alerting system that tells them if any value moves away from optimum.

Apparently the two pilots have had their licences revoked for failing to keep an adequate listening watch, being out of radio contact for 91 minutes. As they should.

Don't tar all airline pilots with the same brush.


But if you do ... then click HERE and have a laugh about it.



7th November 2009


SRI LANKAN ASYLUM SEEKERS


78 Sri Lankan asylum seekers are sitting on an Australian Customs vessel, the Oceanic Viking, 10 nautical miles off the coast of Indonesia, demanding to come to Australia.

It's a stand-off that can only end in tears for the Australian Prime Minister, Kevin Rudd, as he tries to ensure that they don't get into Australia. Backing-down will open the floodgates for boat people who are poised to pay thieves and rogues huge sums to embark on the voyage in overcrowded, leaking sieves. Many will die.

My solution is simple.

Give each seeker a number, and note the date and time. Then take them to a secure facility on Christmas Island or any Pacific Island that could do with the business of running a secure facility.

Ensure that their application is listed in order.

After the 115,000 people, (or whatever the number is this year), who apply under the Skilled Migration or Family Reunion system have been satisfied; and the 13,000 already waiting on the Humanitarian Program list have been taken-in; then start to process the queue jumpers.

If they have to wait five years, then so be it. Many of the legitimate immigrants have waited that long or longer.

Allow the queue jumpers to understand that they will be charged a daily rate for their accommodation and care, the amount will be garnished from future earnings.

Publicise the scheme worldwide, in many languages, that Australia is one of the most welcoming countries for immigrants on the planet. That the application can be made online from anywhere.

But that queue-jumping will lessen your chances of success, and you will be handled last, after the well-behaved applicants have been served.

Let them know that if this policy is unacceptable, they are free to try Indonesia, Thailand, Vietnam, China or New Zealand. Maybe they will receive a faster hearing. But I doubt it.


READER RESPONDS:

The people who took over and immobilised the Australian ship Oceanic Viking three weeks ago are fed, watered and cared for. Not far away, people who take over ships off the east African coast are called pirates and chased by world navies.

Derek Scales, Phillip Island
Do you have a comment? Click HERE and drop us your thoughts.


1st November 2009


WINDMILLS


When you drive to Yosemite National Park from San Francisco you come around a corner and see thousands of windmills covering the hills. They are stunning.

Flying over the German countryside, you see individual windmills in the middle of round-abouts, probably providing the energy for the highway lighting.

In the north of the UK, you can see them next to the highway, doing their job … and now there is a movement to bring them to Australia.

But what is their job?

To give money to the German and Belgian gearbox and propeller manufacturers.

In Australia, stupid Governments subsidise them.

I find them very nice to look at … some people hate them.

I seriously doubt that birds, (who daily miss aircraft approaching them at 300kph during approach), are stupid enough to run into them. The blades are just too slow. I reckon that more birds would run into windows in the suburbs of Melbourne than are killed in the world by windmills.

The noise issue for locals living near the wind farms concerns me, as much as the noise of, say the traffic on the M5 near Bristol, UK. You just can't bring that kind of 24 / 7 noise to rural areas and expect people to just live with it.

But the reason I am against using wind technology as anything other than a supplement to a solar system is because they are only efficient ten percent of the time.

Most time there is not enough wind, especially on hot days when the power load is the greatest.

But worse, they are limited by high winds, so are turned-off when you'd think they'd be most efficient.

Wind farms are used by Pollies as a ready-made solution to the cry that they are not doing anything about sustainable technology.

It's deplorable, and they should be called on it everytime.




First printed 15th March 2005



NUCLEAR



The World needs a new form of energy, and fast.

This week President Bush has approved the oil mining of the Alaskan Wilderness.

The answer is probably going to be nuclear but before we can embrace it a few things need to be done.

During the hot European summer (2003) over 11,000 people died from heatstroke in Paris. The French Leader said the figure was 3,000, but he was laughed-at by the head of the Funeral Director's Association who said, "Maybe .. but we used an extra 11,000 coffins during the month..."

At the same time the power demand increased. Problem is, the nuclear plants are situated on the rivers and there do not appear to be cooling ponds from the heated water, the by-product from nuclear plants. (We were flying over them every day for nine months and a cooling pond is something you can't really hide.)

On the hot days, when demand was greatest, the river temperature was already increased. The heated water, returning to the river, reached the critical maximum temperature above which fish die. The only way to stop the high temperature water is to shut down the plant.

Apparently, they just applied-for and received dispensations to exceed the water temperature in order to keep the supply of electricity flowing.

And millions of fish died.

We must get smarter, and tougher.

By committing to a using nuclear as the long term major source of world energy we should demand, before we start, that ALL environmental concerns are fixed, including the biggest problem of dealing-with spent fuel rods.

But it's no use solving a fuel rod issue if, every time there's a hot day, mismanagement of old, outdated plants causes localized environmental disasters.


First published March 19th 2005




SOLAR IS THE ANSWER


Australia has the ability to be the world centre of excellence for energy in the future.

Australia has the largest uranium deposits in the world. But we must find solutions to all the problems of the nuclear waste and the management of the power plants before we develop the natural resource.

There's no reason why Aussies can't make the break through in technology. It will be done by someone … we must ensure that it's an Aussie research team that does it. Which means we need to fund a centre of excellence to solve all the problems.

But I reckon solar is where Australia can shine.

It won't be easy.

The Federal Australian Government has to do what the US Government did when transistors were developed after WW2.

The cost of a transistor was prohibitive. Remember valves? In your Boom Box, in the TV?

The US Government bought so many of them for the Military that the unit price came down so much that they could put them in a new form of wireless radio. It became the Transistor Radio and within ten years a kid could buy one for eight dollars.

This is what needs to be done, right now.

The highest priority has to be given to the new photo-voltaic cell being developed at Canberra Uni in conjunction with the CSIRO. The per-watt price of cell will drop dramatically.

The Federal Government has to agree to replace EVERY street light in Australia at its own expense. Such an order will lead to an acceleration of the world-class development of battery technology.

The Federal Government has to subsidise the replacing of roofing tiles with solar-powered tiles to ensure that every new house and as many existing houses as possible can be powered with a secondary low voltage system.

All the kitchen downlights are already twelve volts. In your kitchen roof is a transformer reducing the power, (by-product: useless heat), so you can have sexy downlights.

You can run TVs, all internal lights, sound-systems and computers with low power. (No? how bright are your car's headlights?),

The heavy stuff is still needed for white goods and cooking.

The Federal Government has to subsidise the replacing of hot water systems with solar-powered systems to ensure that every new house and as many existing houses as possible can switch over.

Only with such a dramatic change can Australia lead the world and make solar power truly viable.

It's just sitting there to be grabbed*.


* (2009) It wasn't grabbed. The two solar experts at the CSIRO have left Australia after having received little support for their work. One has gone to China, the other to the USA.


First published March 19th 2005




The Walkerville Boating Issue.


In March 2002 I wrote this, and placed it on my website for comment. Four years later, in March 2006 I have updated-it and had a close look at it. It remains valid and my preferred option.

I am a product of Walkerville, have been a camper, resident, friend, blue-water boat user, deck hand, paid Beach Ranger … I've even tagged my share of Koalas, and would like to address the issues raised by the Friends Of Walkerville and others.

At the time of writing I am thankful for the emotive and biased reporting of events. It has prompted me to putting some thought into the matter.

When I had a job flying my Ansett Airbus over Waratah Bay I often looked down on the best coastline in the world. Smiling, as I picked-out rock shoals, beaches and bommies I knew intimately as a child and young adult exploring the rock pools and beaches. Fishing, swimming, snorkelling, diving, sailing and working as a deckhand on fishing and abalone boats.

As an ex-Ranger I have memories of imploring three drunks not to go out in their boat and of the subsequent search for their bodies. I can recall a Father's anguish as he ran over his own daughter, and have been threatened with a knife by a Local Legend who wanted to park on the wrong side of the beach. I have cleaned your filthy toilets. You all taught me to be amazed, astounded and disgusted by the General Public.

Having seen it all, from different sides, I am saddened to think that if either side of the current argument wins, then kids of the future will never be able to have the chance of receiving such a well-rounded childhood.

The problems are these:

1. The Blue Water Boat Club members want better access to the ocean, by building a breakwater boat ramp.

2. The Friends of Walkerville don't want to allow the apparent slash and burn mentality of coastline modification suggested.

3. Some people don't actually like boating activities on Waratah Bay and unnecessarily charge the atmosphere with emotive slanging-off about inexperienced boaters congregating at any new boat ramp installation.

Better to do nothing? I don't think so.

We live next to a fluid coastline in more than one sense of the word. Changing one thing has a reaction somewhere not too far away. I proffer this after witnessing two coastline-changing activities and am sceptical that no matter how expensive and long-winded the environmental impact study is, nature will come along afterwards and do something totally unexpected.

Witness the change to the beach alongside the road at North Walkerville, from McPherson's Creek to and including the beach outside Gairs. Within two decades of putting the huge boulders to shore-up the roadway, the majority of the sand has gone, never to return.

What we affectionately call Gair's Beach, once as majestic as that of South Walkerville, has been reduced in size and quality. The only man-made change was the firming-up of the highwater area with the boulders. I have photographic evidence to prove it.

The other location I have studied is that of Middle Park beach near my Melbourne address. To host the World Sailing Championships a couple of years ago, a new beach at St.Kilda was created from reclaimed sand. A few years later it flourishes to the detriment of Middle Park Beach that has all but washed away. There is hardly any sand. It is pitiful. Last year's storm washed away their beach completely.

Proof in my mind that if you do something to one beach, it affects another a short distance away. That's my first point.

Secondly, the future of Australia is tourism. In the last twenty years the population has grown from about 15 million to 20 million, by a third. In our local area, the only real growth segment is in tourism and eco-tourism. I see no reversal of that trend in the foreseeable future.

Point Three. A head in the sand mentality won't work. Any thoughts of there being a return to the boat-free years are unlikely.

But just when were they boat free?

When Peter Thompson won a major tournament in the USA in the mid 1960's he celebrated with a seafood dinner at Fisherman's wharf in San Francisco. So impressed with the delicacy, he brought the shell back to Australia and yelled-out to an old Italian man snorkelling for mussels in the shallows at Carrum, asking if he had ever seen such a Mollusc. The man lifted his head out of the water, raised his face mask and exclaimed: "They're everywhere, they're eating my mussles!"

Within minutes the Australian abalone industry was born.

In 1969 it arrived at Walkerville, first at the block on the corner of Waratah Street and later at the camping area.

There were boats and trucks everywhere and they all obtained their fuel from Stan Hancock's BP station.

Up to 13 high-powered speedboats working an average 100 days a year, not to mention the big sport fishing boats from the camping area owned by Laurie and Joe Pincini, Terry Titchener; and the smaller runabouts operated by such regulars as Ian Latham.

The local home-owners fielded about 10 or 15 more tinnies and runabouts.

Then there were the sailing dinghies, sabots, moths, sailfish, mirrors and quick cats. As well as Tony Landy's noisy ski boat.

And those old buggers in the blue dinghy from Inverloch who used to pull in boxes of Whiting without ever revealing their spot.

I know. I helped launch and retrieve them all. For two summers I controlled their bedlam at South Walkerville beach when we instigated and enforced the regulation: 'No cars or trailers south of the ramp.'

It worked pretty well.

So dreams of a return to what? I think Walkerville had more boats 25 years ago.

Fourth is the indisputable fact that fishing is the largest participant sport in Australia, every business started in this locality is doing everything it can to draw more people to the area. So let's imagine for a moment; more traffic, more people and more boats in the decades ahead.

Fifth. Our responsibility to those at sea means that we cannot remove the ability for large boats to be operated from Walkerville.

As an Ansett Pilot I was listening to the Sydney To Hobart chopper rescues as I flew over Bass Strait on that fateful day and marvelled at the skill and dexterity of their pilots and crews, who time and again, plucked five or six victims from the boiling sea.

Selfishly, I often wonder what will happen when an airliner catches fire and has to be ditched, or when one of the sixty cruise ships that visit Melbourne each year catches fire as it negotiates 'Burke Street', the shipping lane through the islands at the bottom of Wilson's Prom. The size of these ships is increasing every year.

The bad weather for shipping and air disasters is a strong South Westerly, which is the prevailing breeze about 300 days a year. On such days Sandy Point sand bar and Waratah beach are both unnavigable to rescue craft. Inverloch and Welshpool are too far away and the Prom itself is, amazingly, without launching facilities at all. Ramps in Corner Inlet may as well be in another ocean.

Regardless of our feelings for boaties, we have a responsibility to souls-in-need on-the-sea. So there will always be a need for the Police Rescue Squad to be able to launch a 25 foot boat from the protected beach at Walkerville. Whenever they want.

MY IDEA.

1. Everyone joins the Blue Water Boat Club, now we all have a voice.

2. Protect and preserve the beach in front of Gairs and the decaying Bluff area. Block off the beach access for vehicles at Gairs and widen the car park at the end of the beach road at North Walkerville. Make a boadwalk if you wish. No more boat launching from the Southernmost end of Bayside Drive at North Walkerville.

3. Protect and control South Walkerville during peak times of the year. Build a huge car park, similar to those at any other beach at Wilson's Prom, or Portsea back-beach. At the top of the hill, it would be left of the road, in Crown Land and excavated so as to be below the sight-line from houses west of the main road. It would be connected by a large stairway, coming out near the top of the Limekilns.

During peak times the road would be closed to all except local residents, vehicles displaying Disabled Stickers and Boat Owners actually launching or retrieving their boats. A free shuttle bus and boat trailer Valet Parking Service would operate daily from Christmas until February and during weekends up to and including Easter.

Cost recovery from Boat Owners and Beach Visitors would pay for the service that could be supplemented by a seasonal kiosk situated in the car park, (like they do at Mount Baw Baw in winter).

4. Properly rebuild the boat ramp at South Walkerville. In the past resurfacing has not lasted due to movement of the rock base. The foundation and grade should be of a high quality. The walls should utilise existing rocks to preserve the look of the ramp.

The base of the ramp should extend, underneath the sand, out into the water some fifty or so metres, providing a solid foundation.

5. Only licensed users should be allowed to operate powerboats from the facility. The Victorian Government has legislated for boat drivers to be licensed. If they are worried about novice boaters, the Friends should lobby so that an Open Water component is included in the licence, requiring examination of the process of 'sand-beach, non-ramp' launch and retrieval of boats and trailers.

6. During off-peak times boat owners would have to use the steps to the carpark or the boat club could appoint a valet driver for the day – because there would be no parking for trailers and their towing vehicles down at South Walkerville beach. A quiet boat club tractor may actually perform all the actual trailer dunking and retrievals.

7. The Blue Water Club should undertake an education process. A series of regular "Open Days", when non-boat owning members can be taken on sight-seeing boat trips and fishing trips around the coastline. This would promote harmony with the locals and to swell the numbers of enthusiasts.

A club boat could eventually be purchased for such purposes. Meanwhile the cost of fuel / wear and tear could be borne by volunteering skippers.

IN CONCLUSION

One day, we might even see a huge pier built at South Walkerville beach and up to three thousand people nestled in the surrounding hills. And a Coffee palace on the waterfront.

Just like the old days.

I remain interested in the proposal and will happily work with any bodies to achieve a beneficial outcome.

Oh, and if you reckon my idea won't work, don't ruin the beach at Gairs, sign me up for Option Five and sell me the rights to the beach side cafe.




30th March 2002
amended 26th March 2006


There was once a fishing village called Walkerville.

The tiny fishing village of Walkerville, ooh, hang on.... can't say that.

Fishing Village. Mmm ...

We used to be a fishing village; home to Dena and Brigadoon cray boats, Cadeques, Ab-Normal, Ab-Stractor and Slurp abalone boats among many others.

But sadly that title has gone. It appears to be politically incorrect to like boats at the moment.

The anti-boating discussion seems to be led by people who can't have had a complete education. After all, how could anyone who was taught this at seven years of age be any different?

"There is nothing -- absolutely nothing -- half so much worth doing as simply messing about in boats. In or out of 'em, it doesn't matter. Nothing seems really to matter, that's the charm of it. Whether you get away, or whether you don't; whether you arrive at your destination or whether you reach somewhere else, or whether you never get anywhere at all, you're always busy, and you never do anything in particular; and when you've done it there's always something else to do, and you can do it if you like, but you'd much better not."

[Spoken by Ratty to Mole in Wind in the Willows a children's book by Kenneth Grahame (1859-1932).]

I feel sorry for people who have never gazed lovingly at Walkerville from the Number Two Whiting Spot, and felt that rattatatat of a King George taking a Venus Bay crab.

Some of us think that Walkerville by land is the most spectacular place on earth, only to be trumped by looking at Walkerville, just after sunrise, from half a mile off Gairs.

There must be room at Walkerville for all of us to coexist peacefully … to try to achieve each one's life ambition. It is important to look far into the future to see how we can accommodate all the groups' ambitions. We all need to feel winners.

My life ambition is to have a little boat, like the one I saw lying in the soft sand at Gair's Beach when I was a nipper.

It wasn't a very grandiose boat. It was a heavy white clinker boat and I think it had a racy red stripe. No trailer, you had to use inflatable rubber rollers and brute strength to go to sea in those days.

But it had the best name of any boat afloat … Slopalong Placidly.

I don't have a boat anymore, and that bloody tractor going past at six in the morning really annoys me.

But I will defend, to the death, the right of any seven year old kid to be given the chance to watch the sunrise over Walkerville from the Number Two Whiting Spot off Gairs.

Lucky bastard.


First printed on Monday, March 27, 2006




In Bahrain The Al-Dana Turns Turtle

About 200 people gathered to celebrate the conclusion of the building of the Bahrain World Trade Centre's two towers by taking-in a dinner on the dhow, a traditional Arabian fishing boat, called the Al Dana. She plies her trade by taking tourists along the picturesque waterfront, departing from the Marina Club.

Many will know that my first way of learning about a new city is to take a boat trip. That I have never done so in Bahrain is testament to the fact that I have never found the operators' craft enticing.

The boat can take 100 passengers but nearly double that arrived to start the night. Some guests immediately realised that it was a plan fraught with danger and decided to dine at the Bam Bu Thai restaurant instead. The Indian skipper was not happy with the situation and one report said he refused to serve the dinner on the cruise, requiring staff to serve dinner whilst still tied-up at the wharf. It is known that although he did not want to put to sea, the party organisers insisted.

At least one would-be passenger, who had decided against going, changed his mind, saying he had to go. On the PA he implored people not to gather on the top deck of the newly-refurbished dhow, making it top-heavy. It didn't help.

Shortly after departing, about an hour late, the boat hit a 'large wave'. In Gulf terms this probably means about three feet. It was enough to tip the boat. Downstairs, one of the first victims to be rescued told the Gulf Daily News … "the refrigerator and oven slid to one side of the boat and with that extra weight, the boat couldn't sustain it any longer and we rolled…"

There was no time to get the lifejackets deployed. Now at least 48 are drowned and 27 injured. The Coast Guard was alerted by a passenger with his cell phone. The Bahraini Coast Guard, Navy, Air Force were assisted by the US Navy whose huge 5th Fleet is based here. Divers were in the water immediately.

The people eating their dinner in the Bam Bu received an sms from someone who knew they had gone to the function and had heard the news. One Fillipina woman was alerted to her brother's fate by her sister ringing from the Philipines, who had seen it on TV and was wondering if it was the same cruise she knew her brother was taking. The dead include 25 Britons, 20 Filipinos, 10 South Africans and 10 Egyptians.

St.Christopher's School, favoured by the English expats, has lost three fathers of students. The ranks of building company N.A.S., and contractors Murray & Roberts and W.S.Atkins have been decimated.

In the irony of most shipping tragedies, the weather the next day is clear, fine and sunny. A lone red, white and blue helicopter appears to wander aimlessly overhead.

The sea usually takes three days to release its grip on the bodies it takes. We'll know the final numbers soon.



Information sources: BBC World, AP, Radio Bahrain, Gulf Daily News, Reuters, AFP, witnesses and friends.

First published Friday, March 31, 2006
reprinted from 2005

Melbourne's Slipping, So Let's Change The Rules.

Melbourne has not been the most livable city in the world since last century.

That's on the Mercer's annual survey of the Most Livable City In The World based on 39 factors that never change, and using New York City as a baseline of 100.

It has now slipped to 17th.
(http://en.wikipedia.org/wiki/World's_Most_Livable_Cities)

But never fail to let the truth get in the way of a good story.

In 2004 The Age used a U.K. Expat lifestyle survey to call us number one.
(http://www.theage.com.au/articles/2004/02/06/1075854028808.html)

And this year the ABC said we are number three.
(http://www.abc.net.au/news/stories/2009/06/09/2592740.htm)

But who are we comparing with? And who is the survey for?

The EIU is a London generated survey advising EXPATS where is the best place to work and live. And sure, if you had been pocketing British pounds all your life, Melbourne would be a great place to live. You'd be as rich as an Aussie Pilot in Saigon.

But it's the locals that Mercers' study looks at, (they also have an expat study list but we'll ignore that for now).

And the Mercers study shows what all Melbournians know. The living is not getting easier. With traffic congested, trains that can't handle the heat and ongoing water restrictions due to a lack of planning by the most over-governing politicians in the world.

The least the press can do is report the facts correctly. First to seventeenth in a decade. That should be news. And a plan to arrest the decline should be implemented.

16th October 2009


When The Kiwis Left The Sinking Ship

As a single person in Australia, you are highly-taxed ('High Taxes Keep Us Away' Letters 'The Australian' 7/4/06).

Then your Financial Planner ('Bad Advice' p19 'The Australian' 7/4/06) takes advantage of the fact you are time-poor and, despite supposedly representing your interests, slips you into funds and schemes for which he receives huge commissions; at the same time charging you 'monitoring-fees' to watch your money go into his bank account!

Simultaneously exposing you to tax-effective schemes so you spend the next decade fighting unwinable legal battles. Unwinable for all except the Lawyers and your immune Advisor.

So you leave Australia to start again with absolutely nothing, after giving the spoils of your most income-rich decade to 'the professionals'.

As a single wage earner it's very hard to make it in Australia and one million Australians have voted with their feet.

When the Kiwis started returning home it was time to abandon ship. (Feb 2003)*



*"Net migration remains strong, fuelled by fewer New Zealanders leaving and by more returning home. Twenty five per cent fewer New Zealanders left to live elsewhere last year than in 2001, and the numbers of Kiwis coming home on a permanent or long term basis rose by eight per cent. New Zealand continues to be a very attractive destination for migrants."
- NZ Prime Minister's Statement to Parliament (11/2/03)

http://www.beehive.govt.nz/ViewDocument.aspx?DocumentID=16000

First published 19th April 2006




The French and Italian film industries thrive because they are protected species. Why not Australia?

Australia used to have a strong television commercial production industry by demanding that all ads shown on Australian television be shot by Australian crews.

This led to a thriving business, with many American ads being shot by Australian crews just so that they could show their ads Australia, (Palmolive Soap among others).

Since we stopped demanding this the industry has died.

Australia could strengthen its film industry by demanding that 35% of all theatre screening slots be filled by Australian-made films.

Whilst such a socialist directive would cause the large distributors to complain, it would only be short term.

A revitalised industry, with a guaranteed stage, would soon grow to produce product worthy of export. The complaining distributors would make export profits.

In the past, great Australian films have flopped at the box office because the American-owned distributors gave wide release to mass-marketed Block Busters on the same day.


The playing field was never level. As the French and Italians say, "Why should it be anyway?"


First posted Thursday, October 16, 2008



AUSTRALIA'S EXPAT BRAIN POWER -- FREE BUT UNTAPPED

With now over one million Australians living overseas, the Australian Government should draw on the brain power of some of the world's best and brightest people to assist in making Australia successful.

Many Australian expats would love to move home, but cannot due to financial constraints or because Australia does not have the high-powered positions to entice them back.

The introduction of GST has meant that expats' income source is of little relevance, as long they spend much of their disposable income back in Australia.

The Australian Government should formalise a scheme with two goals:

1. To include these people in major projects for the benefit of Australia, getting them to donate their spare time working on major projects from their bases overseas; and

2. Devising a way of helping Australia's Expats to spend their overseas-earned money in Australia.


POINT ONE: Most expat professionals have a great deal of spare time which, with the aid of the internet age, could be harnessed to work on Australian projects, swelling the country's R&D output.

In return for the sense of pride, and some sort of official notoriety, they would be happy to donate their time for no cost.

POINT TWO: Expat workers from countries such as India and The Philippines send so much of their money home that, in The Philippines case, it is said to be their largest source of income.



First posted Thursday, October 16, 2008
SOLAR STREET LIGHTS

Australia should lead the world by committing to a policy that all streets lights in the entire country must be replaced by combination wind and solar street lighting within three years, powered by energy captured at its point of use.

Features:

Best use of SOLAR CELL technology.
Best use of WIND TURBINE technology, utilising a cylindrical turbine around the top half of the power pole.
Best use of LED globe technology.
Best use of LENS and REFLECTOR design, drawn from lighthouse experience.
Best possible BATTERY solution.
Built in CAMERA to dissuade thieves and assist in traffic management.

Lights to operate on built-in timers, light meters with manual override.

Brightest from official darkness then stepping down in intensity until midnight, after which only low-level lighting is required.

Wireless network for self-testing, self-maintenance diagnosis, manual-override, software-upgrading, tamper and car crash alert.

Economies of scale; similar to birth and development by the US Military of transistor technology in the 1950s; will spearhead battery, solar and wind turbine design.

Australia will become the lead country for this technology, developing a stand alone product for sale to existing markets and developing nations.

Involve all levels of government in a 'wartime effort' which will have spin-offs including a morale boost, massive employment and depression-proofing the economy.

Bringing the cost of solar, wind and battery technology down to a level which will see the adoption of these spinoff products in many areas of daily life.

First posted Thursday, October 16, 2008

PACIFIC AIRLINES DOESN'T PAY THEIR BILLS

Vietnam's Pacific Airlines Fails To Pay More Than $10 Million So Planes Repossessed.


On the 26th January 2005 James Nixon conducted the last flight in S7 RGJ, a Pacific Airlines A321, from Saigon to Hanoi, Vietnam.

The Aircraft was parked, manuals, headsets and other ORION documentation removed from the flight deck and the aircraft locked-up.

At 0800 on the 27th the leasing company removed S7-RGL's registration from the Seychelles register, preventing the aircraft from being flown.

The Pilots on the associated contract with Orion Air, the company owed money by Pacific Airlines, have now been retrenched


First published 26th Jan 2005

VIETNAM AIRLINES PILOTS ASLEEP AT THE WHEEL

What Happens On the Flight Deck ... Stays on the Flight Deck.

No names, no pack drill. But really.

An airline can preach Air Safety, Crew Resource Management and professionalism until the cows come home. But what operation allows two of its operating Pilots to sleep their way across Ukraine, Poland and Slovakia - failing to answer radio calls for almost two hours? *

They apparently got a shock when the Slovakians sent up two fighters to investigate.

Lucky the passengers didn't find out ... and lucky that they eventually woke up.


* on or about 23rd April 2006




First published Friday, May 19, 2006



SHARKS BELOW THE GROUND


If you contracted a company to provide a service, say - to provide you with access through their tunnel to another part of your city - should that company not feel compelled to offer a discount or rebate if the service is diminished in any way?

If, for example, one of the three lanes of the tunnel is closed because the tunnel leaks and needs repairing – doesn't that limit the tunnel's capacity by 33%?

Then, for 'safety reasons' if the speed along two thirds of the tunnel is reduced from 80 kilometres an hour (50mph) to 60 kilometres an hour (35 mph); does it not follow that it's a reduction in speed of 20% for the affected two-thirds?

Surely, it has to be worth some sort of a discount. Not with Melbourne's Citilink ... which, in my opinion, always delivers a lesser than 100% service -- but at full retail.

That sound you can hear? It's not water dripping ... just dollars falling out of your wallet.




REALISTIC ROAD SIGNS


ON one of Melbourne's private roads, there is an ever-tightening 270 degree corner, before traffic crosses the Bolte Bridge, northbound.

Shouldn't the road's owners be expected to place a road sign indicating an upcoming corner commensurate with reality? Or is it ok to get away with a standard, off the shelf, 'curve ahead' sign.

Do private roads have no requirement to meet any national standards? And do the owners of the two semi-trailers that have speared-off in the middle of the corner have any comeback?

In fact, shouldn't all the 'curve ahead' signs reflect the fact that the 'private road' corners tighten considerably after their apexes?

So if your car leaves the road on a corner whose sign doesn't reflect the actual road conditions; don't despair. Somewhere there's a lawyer who would love to help you.







White Man's Magic?


How come all the chain-smoking journalists write stories about globalisation, decrying Gap, Nike and other companies for outsourcing manufacturing to sweat shops in third world countries, yet fail to tell the world what the cigarette companies are doing?

In Australia, we have banned smoking advertising. As a result, all our scratched and faded hoardings and outdoor umbrellas have been sent to nearby third world island nations like Vanuatu and Tonga.

The natives are being addicted to the dreaded weed.

In Vanuatu, for example, cigarettes are sold one-by-one at the supermarket checkout. The natives are too poor to buy a packet or carton, but can buy one or two with their change.

The average Australian male smoker dies at 75 years, from smoking-related complications, from a kind of prolonged hypoxia – attended by the best medical carers. The terror in his eyes; as he realises his biggest lung-fulls of air are unable to alleviate the CO2 tremors; vanishes as the expensive morphine washes over him. Only the best will do …

In the third world the hospital bed is covered in plastic, there is no air-conditioning, the entire family comes and sleeps on the floor. Toilet paper must be bought from the Red Cross trolley and there is no money for supplemental oxygen. Morphine is prohibitive and death comes with a rattle after hours of tremors. Little kids are sensibly terrified.

In thirty years, the wards will be full of these patients who will probably never make the connection. Can you name one country that is adequately planning to care for its future AIDS sufferers, alcoholics and smokers?

Why don't Australian journalists write about this? Would they much rather pretend it's not happening?

Or perhaps they are hoping for a cure ...






THE THINKING MAN'S EDDIE


Melbourne identity Steve Vizard rightly raises the population issue and this author is not against the concept of raising public debate or Mr.Vizard - who was recently described by an ABC talkback caller as 'the thinking man's Eddie McGuire'.

But when is a journalist or editor going to pick up on these two points:

This is a national issue, so why is a State Premier pushing it instead of handing it to the federal head of his party?

It has all been done before by Barry Jones' Committee Investigating Sustainable Development which included many wise people and was science-based.

Why rake over old ground? If Steve wants to read its outcome, why doesn't he just go to the Parliamentary Library or, better still, ring Barry Jones?

Alas, it appears that no-one in the media can remember back to the late 1980s.

Maybe those who would have their names associated with this weeks' expensive summit have no interest in just sitting quietly and applauding the excellent work of those who have gone before.

The fact that an airline will be flying many 'snout-in-the-trough' representatives to Melbourne for free during Grand Prix week has probably got nothing to do with it at all ...

February 23rd 2002

Postscript: 0930 Monday 25th Feb 2002. At the start of the summit it was announced that Barry Jones was being invited to speak ...




REAL TIME 3D DESKTOP VIDEO CONFERENCING



The aviation industry has been decimated, tourism flattened. Airport throughput times blown-out because of 100% security screening.

The USA policy of sterile flight decks has proven flawed.

Airports that have mistakenly imagined themselves as shopping centres are in for a shock.

Business travel needs a quantum leap. The last one was the birth of the 747 and Concorde generations ago ...

Perhaps the next quantum leap is nowhere near the airport. Coming instead in the form of upgraded video conferencing.

Live, real-time, desktop, broadcast quality, three dimensional video and 'stand next to you' audio earpieces combined with instant document transfer and 'sign on the screen with a pen' real time deal completion.

Maybe the world's aviation designers who have come up with such nifty gadgets as the Flight Management Computer could turn their minds to it and, in the process, save their companies from lean times ahead.

JamesNixon, 29th September 2001

Followup:



Boeing technology to cut film distribution costs by two-thirds

ABC Online Posted: Tue, 26 Feb 2002 23:07 AEDT


Aircraft maker Boeing says it will soon roll out a digital cinema, allowing movie theatres to download movies directly from Hollywood via satellite.

Bob Dean, Boeing's vice president for business development, says the digital cinema service is expected to start in the United States within five months, before being extended worldwide.

Under the system, a theatre would send a signal to Hollywood through a Boeing network operations centre for a movie selection.

The theatre needed a server on which to download the movie, which could then be shown anytime.

The system is expected to cut movie distribution costs by two-thirds.

The service is part of Boeing's operating networks and applications business.

Aside from aircraft manufacturing, Boeing's businesses also include technology for missile defence, integrated battle space, human space flights and launch platforms




POSTCODE 3000


Great Place To Visit, But Why Would You Live There?



Imagine how you'd feel if you had believed the publicity, sold up your house in the suburbs and moved into Melbourne CBD. Postcode 3000. Many people did.

High priced housing commission apartments, paper thin walls, no parking for friends to come and visit, walk blocks to find the one useless supermarket, no nearby convenience stores, you can't buy petrol or wash your car; the streets cleaners and rubbish trucks drive through your bedroom at four every morning … there are druggies on every second corner.

But wait, there's more.

When you slink home to hide from the ever-present noise you can't even watch television! In the centre of Australia's second-largest city the only TV you can receive is from Win and Prime TV in Bendigo and Ballarat. True Story.

Channels 2, 7, 9,10, SBS and 31 all broadcast into the region but none, repeat none, can make it into Elizabeth Street, less than two hundred metres from the GPO.

One resident has a country address, so they conned a satellite dish and contract out of the Government. They get to watch programs that come from central western South Australia. Their local news features the Port Lincoln Angling Club.

It's get cable – or get stuffed.

If postcode 3000 residents had free tram travel, they could inexpensively move around the city.

A small price to pay to placate the residents who must wonder if they have made the biggest mistakes of their lives.