jamesnixon.com

Walkerville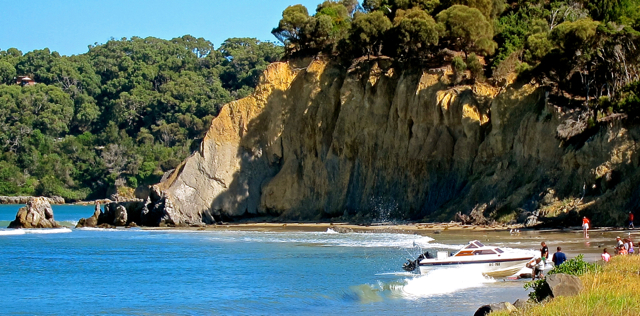 There was once a fishing village
called Walkerville.



The tiny fishing village of Walkerville, ooh, hang on.... can't say that.

Fishing Village. Mmm ...

We used to be a fishing village; home to Dena and Brigadoon cray boats, Cadeques, Ab-Normal, Ab-Stractor and Slurp abalone boats among many others.

But sadly that title has gone. It appears to be politically incorrect to like boats at the moment.

The anti-boating discussion seems to be led by people who can't have had a complete education. After all, how could anyone who was taught this at seven years of age be any different?

'There is nothing -- absolutely nothing -- half so much worth doing as simply messing about in boats. In or out of 'em, it doesn't matter. Nothing seems really to matter, that's the charm of it. Whether you get away, or whether you don't; whether you arrive at your destination or whether you reach somewhere else, or whether you never get anywhere at all, you're always busy, and you never do anything in particular; and when you've done it there's always something else to do, and you can do it if you like, but you'd much better not.'

[Spoken by Ratty to Mole in Wind in the Willows a children's book by Kenneth Grahame (1859-1932).]

I feel sorry for people who have never gazed lovingly at Walkerville from the Number Two Whiting Spot, and felt that rattatatat of a King George taking a Venus Bay crab.

Some of us think that Walkerville by land is the most spectacular place on earth, only to be trumped by looking at Walkerville, just after sunrise, from half a mile off Gairs.

There must be room at Walkerville for all of us to coexist peacefully … to try to achieve each one's life ambition. It is important to look far into the future to see how we can accommodate all the groups' ambitions. We all need to feel winners.

My life ambition is to have a little boat, like the one I saw lying in the soft sand at Gair's Beach when I was a nipper.

It wasn't a very grandiose boat. It was a heavy white clinker boat and I think it had a racy red stripe. No trailer, you had to use inflatable rubber rollers and brute strength to go to sea in those days.

But it had the best name of any boat afloat … Slopalong Placidly*.

I don't have a boat anymore, and that bloody tractor going past at six in the morning really annoys me.

But I will defend, to the death, the right of any seven year old kid to be given the chance to watch the sunrise over Walkerville from the Number Two Whiting Spot off Gairs.

Lucky bastard.


First printed on Monday, March 27, 2006
* I have stolen the name for my little dinghy, based in Albert Park.








The Walkerville Boating Issue.



In March 2002 I wrote this, and placed it on my website for comment. Four years later, in March 2006 I have updated-it and had a close look at it. It remains valid and my preferred option.

I am a product of Walkerville, have been a camper, resident, friend, blue-water boat user, deck hand, paid Beach Ranger … I've even tagged my share of Koalas, and would like to address the issues raised by the Friends Of Walkerville and others.

At the time of writing I am thankful for the emotive and biased reporting of events. It has prompted me to putting some thought into the matter.

When I had a job flying my Ansett Airbus over Waratah Bay I often looked down on the best coastline in the world. Smiling, as I picked-out rock shoals, beaches and bommies I knew intimately as a child and young adult exploring the rock pools and beaches. Fishing, swimming, snorkelling, diving, sailing and working as a deckhand on fishing and abalone boats.

As an ex-Ranger I have memories of imploring three drunks not to go out in their boat and of the subsequent search for their bodies. I can recall a Father's anguish as he ran over his own daughter, and have been threatened with a knife by a Local Legend who wanted to park on the wrong side of the beach. I have cleaned your filthy toilets. You all taught me to be amazed, astounded and disgusted by the General Public.

Having seen it all, from different sides, I am saddened to think that if either side of the current argument wins, then kids of the future will never be able to have the chance of receiving such a well-rounded childhood.

The problems are these:

1. The Blue Water Boat Club members want better access to the ocean, by building a breakwater boat ramp.

2. The Friends of Walkerville don't want to allow the apparent slash and burn mentality of coastline modification suggested.

3. Some people don't actually like boating activities on Waratah Bay and unnecessarily charge the atmosphere with emotive slanging-off about inexperienced boaters congregating at any new boat ramp installation.

Better to do nothing? I don't think so.

We live next to a fluid coastline in more than one sense of the word. Changing one thing has a reaction somewhere not too far away. I proffer this after witnessing two coastline-changing activities and am sceptical that no matter how expensive and long-winded the environmental impact study is, nature will come along afterwards and do something totally unexpected.

Witness the change to the beach alongside the road at North Walkerville, from McPherson's Creek to and including the beach outside Gairs. Within two decades of putting the huge boulders to shore-up the roadway, the majority of the sand has gone, never to return.

What we affectionately call Gair's Beach, once as majestic as that of South Walkerville, has been reduced in size and quality. The only man-made change was the firming-up of the highwater area with the boulders. I have photographic evidence to prove it.

The other location I have studied is that of Middle Park beach near my Melbourne address. To host the World Sailing Championships a couple of years ago, a new beach at St.Kilda was created from reclaimed sand. A few years later it flourishes to the detriment of Middle Park Beach that has all but washed away. There is hardly any sand. It is pitiful. Last year's storm washed away their beach completely.

Proof in my mind that if you do something to one beach, it affects another a short distance away. That's my first point.

Secondly, the future of Australia is tourism. In the last twenty years the population has grown from about 15 million to 20 million, by a third. In our local area, the only real growth segment is in tourism and eco-tourism. I see no reversal of that trend in the foreseeable future.

Point Three. A head in the sand mentality won't work. Any thoughts of there being a return to the boat-free years are unlikely.

But just when were they boat free?

When Peter Thompson won a major tournament in the USA in the mid 1960's he celebrated with a seafood dinner at Fisherman's wharf in San Francisco. So impressed with the delicacy, he brought the shell back to Australia and yelled-out to an old Italian man snorkelling for mussels in the shallows at Carrum, asking if he had ever seen such a Mollusc. The man lifted his head out of the water, raised his face mask and exclaimed: "They're everywhere, they're eating my mussles!"

Within minutes the Australian abalone industry was born.

In 1969 it arrived at Walkerville, first at the block on the corner of Waratah Street and later at the camping area.

There were boats and trucks everywhere and they all obtained their fuel from Stan Hancock's BP station.

Up to 13 high-powered speedboats working an average 100 days a year, not to mention the big sport fishing boats from the camping area owned by Laurie and Joe Pincini, Terry Titchener; and the smaller runabouts operated by such regulars as Ian Latham.

The local home-owners fielded about 10 or 15 more tinnies and runabouts.

Then there were the sailing dinghies, sabots, moths, sailfish, mirrors and quick cats. As well as Tony Landy's noisy ski boat.

And those old buggers in the blue dinghy from Inverloch who used to pull in boxes of Whiting without ever revealing their spot.

I know. I helped launch and retrieve them all. For two summers I controlled their bedlam at South Walkerville beach when we instigated and enforced the regulation: 'No cars or trailers south of the ramp.'

It worked pretty well.

So dreams of a return to what? I think Walkerville had more boats 25 years ago.

Fourth is the indisputable fact that fishing is the largest participant sport in Australia, every business started in this locality is doing everything it can to draw more people to the area. So let's imagine for a moment; more traffic, more people and more boats in the decades ahead.

Fifth. Our responsibility to those at sea means that we cannot remove the ability for large boats to be operated from Walkerville.

As an Ansett Pilot I was listening to the Sydney To Hobart chopper rescues as I flew over Bass Strait on that fateful day and marvelled at the skill and dexterity of their pilots and crews, who time and again, plucked five or six victims from the boiling sea.

Selfishly, I often wonder what will happen when an airliner catches fire and has to be ditched, or when one of the sixty cruise ships that visit Melbourne each year catches fire as it negotiates 'Burke Street', the shipping lane through the islands at the bottom of Wilson's Prom. The size of these ships is increasing every year.

The bad weather for shipping and air disasters is a strong South Westerly, which is the prevailing breeze about 300 days a year. On such days Sandy Point sand bar and Waratah beach are both unnavigable to rescue craft. Inverloch and Welshpool are too far away and the Prom itself is, amazingly, without launching facilities at all. Ramps in Corner Inlet may as well be in another ocean.

Regardless of our feelings for boaties, we have a responsibility to souls-in-need on-the-sea. So there will always be a need for the Police Rescue Squad to be able to launch a 25 foot boat from the protected beach at Walkerville. Whenever they want.

MY IDEA.

1. Everyone joins the Blue Water Boat Club, now we all have a voice.

2. Protect and preserve the beach in front of Gairs and the decaying Bluff area. Block off the beach access for vehicles at Gairs and widen the car park at the end of the beach road at North Walkerville. Make a boadwalk if you wish. No more boat launching from the Southernmost end of Bayside Drive at North Walkerville.

3. Protect and control South Walkerville during peak times of the year. Build a huge car park, similar to those at any other beach at Wilson's Prom, or Portsea back-beach. At the top of the hill, it would be left of the road, in Crown Land and excavated so as to be below the sight-line from houses west of the main road. It would be connected by a large stairway, coming out near the top of the Limekilns.

During peak times the road would be closed to all except local residents, vehicles displaying Disabled Stickers and Boat Owners actually launching or retrieving their boats. A free shuttle bus and boat trailer Valet Parking Service would operate daily from Christmas until February and during weekends up to and including Easter.

Cost recovery from Boat Owners and Beach Visitors would pay for the service that could be supplemented by a seasonal kiosk situated in the car park, (like they do at Mount Baw Baw in winter).

4. Properly rebuild the boat ramp at South Walkerville. In the past resurfacing has not lasted due to movement of the rock base. The foundation and grade should be of a high quality. The walls should utilise existing rocks to preserve the look of the ramp.

The base of the ramp should extend, underneath the sand, out into the water some fifty or so metres, providing a solid foundation.

5. Only licensed users should be allowed to operate powerboats from the facility. The Victorian Government has legislated for boat drivers to be licensed. If they are worried about novice boaters, the Friends should lobby so that an Open Water component is included in the licence, requiring examination of the process of 'sand-beach, non-ramp' launch and retrieval of boats and trailers.

6. During off-peak times boat owners would have to use the steps to the carpark or the boat club could appoint a valet driver for the day – because there would be no parking for trailers and their towing vehicles down at South Walkerville beach. A quiet boat club tractor may actually perform all the actual trailer dunking and retrievals.

7. The Blue Water Club should undertake an education process. A series of regular "Open Days", when non-boat owning members can be taken on sight-seeing boat trips and fishing trips around the coastline. This would promote harmony with the locals and to swell the numbers of enthusiasts.

A club boat could eventually be purchased for such purposes. Meanwhile the cost of fuel / wear and tear could be borne by volunteering skippers.

IN CONCLUSION

One day, we might even see a huge pier built at South Walkerville beach and up to three thousand people nestled in the surrounding hills. And a Coffee palace on the waterfront.

Just like the old days.

I remain interested in the proposal and will happily work with any bodies to achieve a beneficial outcome.

Oh, and if you reckon my idea won't work, don't ruin the beach at Gairs, sign me up for Option Five and sell me the rights to the beach side cafe.




30th March 2002
amended 26th March 2006